Survival and Sacrifice YA Author Panel & Signing feat. Julie Eshbaugh (CROWN OF OBLIVION) & Pintip Dunn (STAR-CROSSED)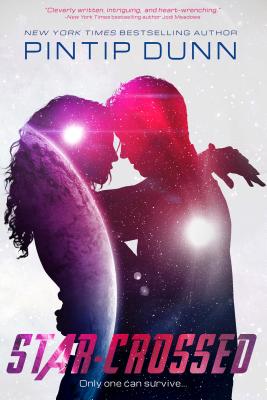 Join us in welcoming back some outstanding Young Adult authors: Julie Eshbaugh, who wrote one of Lelia's favorites: IVORY AND BONE (a prehistoric gender-swapped Pride & Prejudice), and prolific author Pintip Dunn! We'll celebrate the release of Julie's new novel, CROWN OF OBLIVION--a fast-paced story full of action, magic, and romance! Pintip Dunn's latest book, STAR-CROSSED, is "a delicious tale full of depth and complexity with a bold heroine filled with love, loyalty, and courage." (--Brenda Drake, NYT bestselling author of the Library Jumpers series)

About CROWN OF OBLIVION:

In this mesmerizing YA fantasy mash-up of The Road meets The Amazing Race, one girl chooses to risk her life in a cutthroat competition in order to win her freedom.

In Lanoria, Outsiders, who don't have magic, are inferior to Enchanteds, who do. That's just a fact for Astrid, an Outsider who is indentured to pay off her family's debts. She serves as the surrogate for the princess--if Renya steps out of line, Astrid is the one who bears the punishment for it.

But there is a way out: the life-or-death Race of Oblivion. First, racers are dosed with the drug Oblivion, which wipes their memories. Then, when they awake in the middle of nowhere, only cryptic clues--and a sheer will to live--will lead them through treacherous terrain full of opponents who wouldn't think twice about killing each other to get ahead.

But what throws Astrid the most is what she never expected to encounter in this race. A familiar face she can't place. Secret powers she shouldn't have. And a confusing memory of the past that, if real, could mean the undoing of the entire social structure that has kept her a slave her entire life.

Competing could mean death...but it could also mean freedom.


About STAR-CROSSED:

Princess Vela's people are starving.

Stranded on a planet that lacks food, Vela makes the ultimate sacrifice and becomes an Aegis for her people. Accepting a genetic modification that takes sixty years off her life, she can feed her colony via nutrition pills. But her best friend is still getting worse. And she's not the only one.

Now the king is dying, too.

When the boy she's had a crush on since childhood volunteers to give his life for her father's, Vela realizes her people need more than pills to survive. As tensions rise between Aegis and colonists, secrets and sabotage begin to threaten the future of the colony itself.

Unless Vela is brave enough to save them all...
Both authors will be signing books after their discussion. We'll have a selection of their previous titles available as well, but if there's a specific one you'd like to have, please email info@onemorepagebooks.com

Event date:
Wednesday, November 13, 2019 - 7:00pm
Event address:
2200 N. Westmoreland Street #101
Arlington, VA 22213

$17.99
ISBN: 9781633752412
Availability: On Our Shelves Now
Published: Entangled: Teen - October 2nd, 2018
---

$9.99
ISBN: 9780062399267
Availability: On Our Shelves Now
Published: HarperTeen - May 9th, 2017
---