Zizzle Selects: literary stories for teens (Hardcover)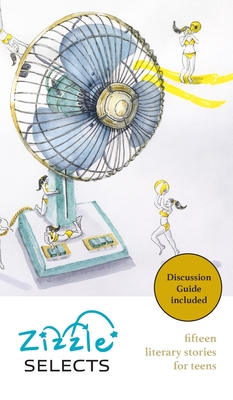 $28.00
Available from Our Distributor (Not in Store)
Description
---
//This anthology of 15 short stories by popular and emerging writers unites the assorted stories under the theme of "making choices when faced with something strange." As might be expected in a book for teens, several stories center on the ups and downs of everyday education, such as David Galef's "No-School Day," Amy Aves Challenger's "I'm Not Going to School," and Melissa Ostrom's "Dead Mudge." Others explore family dynamics: a quirky uncle in Kate Felix's "Serbian Dracula Mysteries," a protective dad in Sudha Balagopal's "Nuclear Missiles Are Coming Our Way." Perhaps the most interesting stories are those that blur the line between ordinary and extraordinary, whether through Norse mythology in Blake Johnson's "The Road to Valhalla" or by imagining dreams as living creatures in Kimberly Huebner's standout "The Shelter of Abandoned Dreams."
Each piece is accompanied by a photograph of the author as a child or a spare, gorgeous ink and watercolor illustration by Janas Lau. The visual media don't always correspond with the fiction, but Lau's paintings, whether they show jungle creatures or city buildings, tell stories of their own. What makes this anthology really worthwhile is what comes after the flash fiction: author biographies and discussions of the authors' favorite childhood books and the inspirations behind their stories, all of which will encourage teen writers.
Teachers, parents, and students can use the discussion guide to think and talk about a disobedient girl's refusal to be cursed in Karen Heuler's "A Reluctant Fairy Tale" or explore the second-person perspective in Gargi Mehra's "Sticks and Stones." As readers dig in, they'll be pleasantly surprised by the depth of the moral lessons packed into these bite-size tales. Though intended for teens, this anthology can be enjoyed by anyone who wants a handful of brief, rich stories to savor one at a time or consume all at once.//
- BookLife Reviews
*Zizzle Literary is an international anthology book series that aims to foster a lifelong love of reading. Our very short fiction will appeal to those who already love literary fiction and will spark an interest in newer readers.
"Well-wrought, unusual, and memorable fiction beautifully illustrated-a keepsake."
- Kirkus Reviews
FICTION
Sudha Balagopal
Amy Aves Challenger
Nicole Crucial
Kate Felix
David Galef
Karen Heuler
Kimberly Huebner
Blake Johnson
Gargi Mehra
Wendy Nikel
Melissa Ostrom
Cheryl Pappas
Karen Rigby
Jeremy Schnee
Ryan Thorpe
ART
Janas Lau