Joe Biden & Kamala Harris 2021: Reuniting America & Recovering from Trump's Disaster; COVID-19, Racism, Classism, Sexism, and Bigotry (Paperback)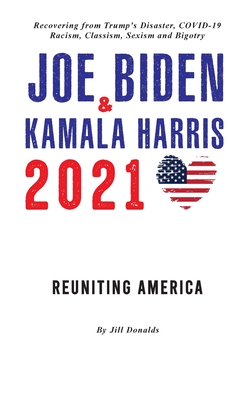 $14.99
Email or call for price.
Description
---
2021 Edition.
"We did it, we did it Joe. You're going to be the next president of the United States "
Can Joe Biden and Kamala Harris unite America after four years of Trumpism?
When Joe Biden formally takes over the presidency in January 2021, he will face some of the greatest crises to hit the US in recent history: a deeply fractured nation, an ongoing pandemic that has killed many Americans, a devastated economy, and a rapidly overheating climate.
How will Joe Biden, with VP Kamala Harris on his side, heal America. How will their seven-point plan bring the COVID-19 pandemic under control?
What is their blueprint to deal with racism, sexism, and bigotry? How will Biden's presidency deal with a broken economy and climate issues?
This portrayal highlights the Biden policies. Once the new president take office we can look forward to a renewed, reunited America.
There is once more, reason for hope