The Museum of Forgotten Memories: A Novel (Paperback)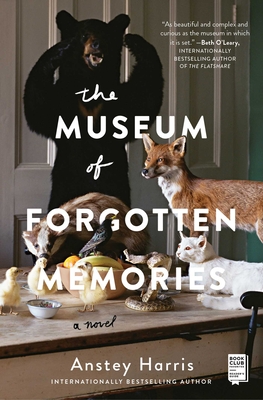 Description
---
"Moving." —Booklist (starred review)

At Hatters Museum of the Wide Wide World, where the animals never age but time takes its toll, one woman must find the courage to overcome the greatest loss of her life.

Four years after her husband Richard's death, Cate Morris is let go from her teaching job and unable to pay rent on the London flat she shares with her son, Leo. With nowhere else to turn, they pack up and venture to Richard's ancestral Victorian museum in the small town of Crouch-on-Sea.

Despite growing pains and a grouchy caretaker, Cate begins to fall in love with the quirky taxidermy exhibits and sprawling grounds, and she makes it her mission to revive them. But threats from both inside and outside the museum derail her plans and send her spiraling into self-doubt.

As Cate becomes more invested in Hatters, she must finally confront the reality of Richard's death—and the role she played in it—in order to reimagine her future. Perfect for fans of Katherine Center and Evvie Drake Starts Over.
About the Author
---
Anstey Harris teaches creative writing in Kent, England. Her short stories have been widely published in anthologies and online and she was the winner of the H.G. Wells Short Story Prize in 2015. Anstey lives in Kent, England, and is the mother of singer-songwriter Lucy Spraggan.
Praise For…
---
"Recommended for readers who like their relationship fiction on the literary side."
—Library Journal

"An eccentric museum in a neglected, stately English home becomes a heart-opening site of revelation, renewal, and second chances for a widow and her son… Enjoyably readable."
—Kirkus

"An incredibly moving and atmospheric novel, as beautiful and complex and curious as the museum in which it is set."
—Beth O'Leary, internationally bestselling author of The Flatshare

"Family secrets, betrayals, and complications with love come together in a unique setting. Powerful and poignant, this book is guaranteed to transport you."
—Julia London, New York Times and USA Today bestselling author

"A family's peculiar museum becomes a surprising source of renewal and hope… Moving."
—Booklist (starred review)

"Behind the facade of an imposing grand house and unique museum, Harris deftly explores grief's tricky pull, the way depression can shrink a person and swallow them whole, and how those we lose are never gone. A healing tale about belonging and beginning again."
—Marjan Kamali, author of The Stationery Shop

"One of my favorite books of 2020—I savored every word of this gorgeous novel. Harris proves, once again, that she is a storyteller extraordinaire. The Museum of Forgotten Memories is, quite simply, superb."
—Lori Nelson Spielman, internationally bestselling author of The Life List

"This beautifully written novel is not only absorbing and original, it will challenge preconceptions in the very best way."
—Katie Fforde, internationally bestselling author

"Riddled with secrets and lies, the love story shines like a beacon in the darkness and gripped me utterly."
—Kate Furnivall, internationally bestselling author

"A perfectly crafted novel: beautifully written, insightful and tender – it's simply stunning."
—Fionnuala Kearney, internationally bestselling author of The Book of Love

"Such a beautifully written and engrossing novel."
—Jacqueline Ward, author of Perfect Ten