The Books That Changed My Life: Reflections by 100 Authors, Actors, Musicians, and Other Remarkable People (Hardcover)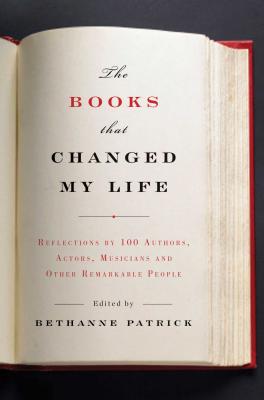 Description
---
One hundred of today's most prominent literary and cultural icons talk about the books that hold a special place in their hearts—that made them who they are today.

Leading authors, politicians, CEOs, actors, and other notables share the books that changed their life, why they love them, and their passion with readers everywhere. Regan Arts has teamed up with the literary charity 826National, which will receive a portion of the book's proceeds to provide students ages 6–18 with opportunities to explore their creativity and improve their writing skills.

Contributors include Al Roker, Carl Hiaasen, Dave Eggers, Emma Straub, Eric Idle, Fay Weldon, Fran Lebowitz, Gillian Flynn, Gregory Maguire, Jeff Kinney, Jim Shepard, Laura Lippmann, Lev Grossman, Liev Schreiber, Margaret Atwood, Mayim Bialik, Nelson DeMille, Rosanne Cash, Susan Orlean, Tim Gunn, and Tommy Hilfiger, among others.
About the Author
---
Bethanne Patrick is the author of An Uncommon History of Common Things (with John Thompson) and An Uncommon History of Common Courtesy. She is a contributing editor at The Literary Hub. Her essays, reviews, and interviews appear in publications including The Washington Post, Virginia Quarterly Review, O the Oprah Magazine, The Mid.com, and many more. In 2009, she created the #FridayReads hashtag, which continues to attract thousands of readers around the world.
Praise For…
---
"'How many a man has dated a new era in his life from the reading of a book!' Thoreau only says 'a book,' but Bethanne Patrick had the excellent idea of asking notable figures in the arts, business, media and politics to be more specific. The result is a collection of lively brief essays extolling the power of the printed word while also providing an appealingly idiosyncratic reading list. Be prepared for surprises!"

— Michael Dirda, Pulitzer Prize-winning literary journalist and author of Browsings: A Year of Reading, Collecting, and Living with Books

"Turns out great writers are also great readers. Or at least the ones in this book are. Their essays will entertain you and move you—and also add several dozen titles to your reading list. So beware."

—A.J. Jacobs, New York Times bestselling author of The Know-It-All and The Year of Living Biblically

"An inspiring collection that will make a perfect gift for an aspiring writer or devoted reader."

—Kirkus

"When people claim that books changed their lives, if you look at them closely, their lives rarely seem to have actually changed. That's not the case with the bibliomaniacs in this masterfully curated anthology. Not only have these books changed their lives, they tell you how, when, and why. Your to-read pile is about to grow by leaps and bounds."

— Josh Hanagarne, author of The World's Strongest Librarian: A Book Lover's Adventures

"Lively, addictive . . . The short entries are like literary snack food: once readers start consuming them, they may find it difficult to stop. Book lovers will recognize themselves in these portraits and feel among friends. Perhaps the most valuable takeaway from this joyous volume is that, in an increasingly digital world, the printed word still matters."

— Publishers Weekly