DARK PSYCHOLOGY And MENTAL MODELS 2 IN 1 Bundle (Hardcover)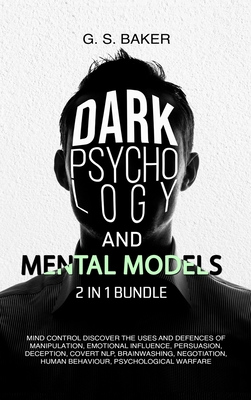 $49.68
Email or call for price.
Description
---
55 % discount
for bookstores
NOW
at $49.68 instead of $100
Do you want to know the techniques of Dark Psychology? Do you think someone is using manipulation methods to manage your actions? Do you feel that your life is getting out of control?
Your customer will never stop using this amazing BOOK
Dark Psychology can be seen as the study of the human condition, in relation to the psychological nature of the different kinds of people who prey on others. The fact is that every single human being has the potential to victimize other people or other living creatures. However, due to social norms, the human conscience, and other factors, most humans tend to restrain their dark urges and to keep themselves from acting on every impulse that they have. However, there is a small percentage of the population that is unable to keep their dark instincts in check, and they harm others in seemingly unimaginable ways.
An important part of the journey to for the comparison of what happens in the deepest dark side of the mind and for increase Mental skills is reading and learning all you can about the process. So, start here and read about all the other factors you can capitalize on in your path
Here is a summary of what you will learn in this book:
- How to hard-wire your brain
- How the manipulation mind work
- How the deepest secrets of hypnosis influence your life
- What is the Emotional Manipulation
- Brainwashing
- The secrets of HUMAN PSYCHOLOGY
- What Dark Psychology is and how is it used the power of Psychology.
- How to train your mind at the critical thinking
- The ultimate techniques for psychological defense.
- Understand why these underhanded persuasion techniques are so effective.
- How to create mental resilience
Even if you've never been able to defend yourself from manipulative behavior, this book will be teaching the techniques you need in your toolbox to fight all parts of dark psychology
BUY NOW
and let your customer became addicted to this incredible BOOK.