Overcome Anxiety and Depression: Easily Unlock your Brain to Overcome Difficult Moments Anxiety, Depression, Old Trauma, and Give a Smile to your Days (Hardcover)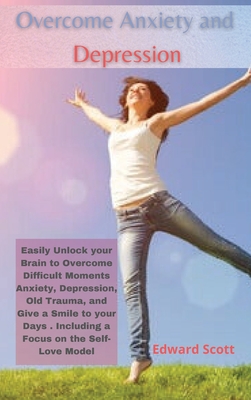 $27.99
Email or call for price.
Description
---
Do you want to overcome anxiety and depression? If yes, then this is the right book for you
Living with constant negative thoughts and intense fears can cause someone to wish for a way to ease their pain or to develop unhealthy habits that could make their symptoms worse. Anxiety is linked to several other mental illnesses, most notably depression. This combination can cause people to make poor decisions when they are motivated to find relief from their symptoms. Some people will turn to drugs or alcohol, which can make symptoms worse. Other people might find more dangerous ways to cope with their mental problems and cause physical harm to them.
Being anxious can also result in people refusing to leave their homes or to only go to certain places that they feel are safe. This can lead to a drastic decrease in social interaction, which can be counterproductive to their healing. If people do not have a strong support network to get them through their anxious periods, they may have a more challenging time getting back to a healthy place.
Depression not only affects you but also various aspects of your life, including the people you love. When we suffer from depression, many times we lose sight of those around us, the love we have for them, and how they can help us. Some relationships with friends or partners can break because of the depression and mistakes made.
This book covers the following topics:
. Negative Thoughts
- The Key To Relaxation
- Cognitive Behavioral Therapy
- Believe In Your Self-Esteem
- Overcome Anxiety, Panic Attacks, Post-Traumatic Stress Disorder
- How To Recognize Depression
...And much more
Let's start your journey towards the life you deserve.