Rescuing the Children: The Story of the Kindertransport (Hardcover)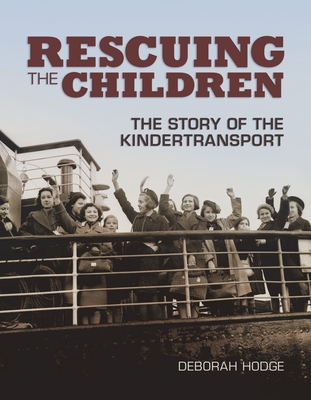 $17.95
Email or call for price.
Description
---
This important book tells the story of how ten thousand Jewish children were rescued out of Nazi Europe just before the outbreak of World War 2. They were saved by the Kindertransport — a rescue mission that transported the children (or Kinder) from Nazi-ruled countries to safety in Britain.

The book includes real-life accounts of the children and is illustrated with archival photographs, paintings of pre-war Nazi Germany by artist, Hans Jackson, and original art by the Kinder commemorating their rescue.
About the Author
---
Deborah Hodge has written more than 25 books for children. Many of her books have won awards and been published internationally. Her picture book, Lily and the Mixed-up Letters, was chosen by IBBY as an Outstanding Book for Young People with Disabilities. She also won the Information Book Award from the Children's Literature Roundtable of Canada.

Deborah specializes in writing engaging nonfiction for young readers and loves the challenge of using few words to explain big thoughts. Deborah is a former teacher and curriculum writer for the BC Ministry of Education. She lives in Vancouver, Canada.
Praise For…
---
"…Neither melodramatic nor sentimental, the simple, accessible prose reveals the historical realities of how 'non-Jewish children [were] taught to love Hitler and to hate Jews,' along with the heartbreak of saying good-bye and the fact that most of the rescued would never see their parents again…. Even with all the books out there about the Kindertransport, readers will grab this exemplary title for historical research and for personal reading."
— Starred Review, Booklist

"Fitting neatly into primary-classroom units about World War II and the Holocaust…. Then-and-now portraits … with a mix of period photos and paintings by Kinder artist Hans Jackson, provide plenty of visual witness to those dangerous times and the children caught in them. A quick but systematic overview, well-endowed with both visual and documentary supporting material…."
—Kirkus Reviews

"Heartbreaking and hopeful at the same time…. Explaining the Holocaust is never easy, but Hodge does an outstanding job of describing the horrors of what was happening and then putting them in a historical context that is comprehensible to even young students with only a passing knowledge of the period…. "
—School Library Journal

"…Deborah Hodge pieces together some of the remarkable tales told by the children who lived because they escaped from the Nazis. What is most striking about Hodge's book is how she weaves what the children themselves relate into her narrative. In their own words, they offer readers insight into the trauma of leaving their families and friends behind, journeying to a place where they didn't speak the language and felt foreign and alone, unsure what was happening back home or whether they'd ever see their parents or siblings again."
– Canadian Children's Book News