Vignette: Stories Of Life And Wine In 100 Bottles (Hardcover)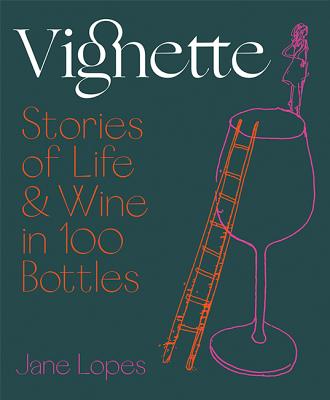 $29.99

Available from Our Distributor (Not in Store)
Description
---
Sometimes we just want someone to hand us a bottle of wine. Sometimes we want to learn more about that wine. And sometimes we want to feel something about wine.

In Vignette, sommelier Jane Lopes recommends the 100 bottles of wine (and some spirits and beers) to best expand your wine journey, giving you a complete palate education of the important styles, grapes, regions, and flavors of this magical and ever-growing world. Alongside that, you will find imaginative ways to engage with the foundational wine knowledge that underpins a good drinking experience. And then there is Jane's own narrative – the stories of triumph and defeat that comprise her life in wine. It's part memoir and part wine book, but a lot more fun than either alone.

These are wines to live with, learn from and take solace in – a joyous, surprising, and revelatory response to that age-old question, "What should I drink?"
About the Author
---
Jane Lopes is an American-born sommelier. She has worked at New York's Eleven Madison Park, Nashville's The Catbird Seat, and Chicago's The Violet Hour, and she is currently the wine director at Attica, Australia's most celebrated restaurant. In September of 2018, Jane passed the prestigious Master Sommelier exam, becoming the only woman in Australia to do so, and one of only 34 women in the world (and 274 people in total since the 1960s). Jane has finally put her University of Chicago literature degree to good use in publishing her first book.
Praise For…
---
'I'm certain by reading this book you'll learn to love wine - if you don't love it already - in the same way that I did: from Jane. The future of wine is women.' -Ben Shewry, Attica

'Vignette is an enthralling medley of education, emotion, and wonder. Through the lens of one of the world's most thoughtful (and accomplished) sommeliers, the reader not only learns about 100 classic wines but also grows a genuine attachment to them through Lopes' personal anecdotes. Whether a novice wine drinker or a master sommelier - you will love this book' -Victoria James, sommelier and author of Drink Pink: A Celebration of Rosé

'Working with Jane in the dining room at Eleven Madison Park I got to see firsthand the incredible approach she took in talking with our guests about wine, almost tricking them into learning through her thoughtful and playful storytelling. In this exceptionally creative book, she does more of the same, bringing hospitality to the world of wine education by making it personal, fun and engaging to learn.' -Will Guidara, Eleven Madison Park

'In her brilliant, utterly personal book, Jane Lopes offers not only the knowledge of an expert sommelier, but also makes the reader realize wine that is a beautiful window to the world, inside and outside.' -Pascaline Lepeltier, Master Sommelier, Best Sommelier of France, author and winemaker

'Seeing Jane in action in the dining rooms of Eleven Madison Park and Attica, it's no wonder why she is a world-wide force through wine. She has an ease, yet grace about her. This is her super power - her ability to invite you in, to adore an unassuming bottle, a story, a history, a vine, a craft through the simple ease of a single sip or a smile.' -Christina Tosi, chef and owner Milk Bar, author

'Jane has written the most honest and accurate books I have read on life, love, and alcohol. Essential reading for anyone who drinks to learn.' -Jason Wise, writer and director of SOMM

'This is such a unique and wonderful book. Jane invites you in, takes you on a journey, and before you know it, the journey has become yours. Along the way you'll drink many delicious things, learn a ton, have a boat load of fun, and, importantly, find your own truth about wine. Jane's story telling is clever, playful, and exceptionally well designed all of which renders the complex clear, quick, and intuitive. May we also say, Jane is one courageous human. It has been a pleasure to watch her grow as a professional. She's tackled the most daunting situations with aplomb, proving herself a person of true character and substance. She's one of the finest wine professionals in the world.' -Richard Betts and Carla Rzeszewski

'Jane Lopes is as brilliant an author as she is a sommelier. Vignette is a rare work of impassioned storytelling, love, vulnerability and regeneration that will inform, engage and delight any student of wine at any point in her or his journey. It is also a newly seminal educational wine book and must-read for anyone either looking to impress friends at dinner parties or pass a notoriously difficult exam.' -Jordan Salcito, founder of Drink Ramona, sommelier