The Remaking: A Novel (Paperback)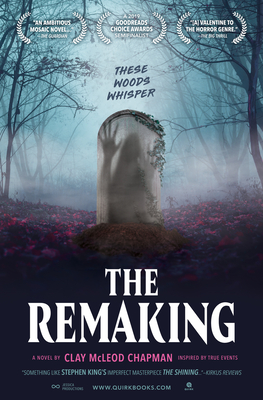 Description
---
Inspired by a true story, this supernatural thriller for fans of horror and true crime follows a tale as it evolves every twenty years—with terrifying results.

Ella Louise has lived in the woods surrounding Pilot's Creek, Virginia, for nearly a decade. Publicly, she and her daughter, Jessica, are shunned by her upper-crust family and the local residents. Privately, desperate characters visit her apothecary for a cure to what ails them—until Ella Louise is blamed for the death of a prominent customer. Accused of witchcraft, Ella Louise and Jessica are burned at the stake in the middle of the night. Ella Louise's burial site is never found, but the little girl has the most famous grave in the South: a steel-reinforced coffin surrounded by a fence of interconnected white crosses.

Their story will take the shape of an urban legend as it's told around a campfire by a man forever marked by his childhood encounters with Jessica. Decades later, a boy at that campfire will cast Amber Pendleton as Jessica in a '70s horror movie inspired by the Witch Girl of Pilot's Creek. Amber's experiences on that set and its meta-remake in the '90s will ripple through pop culture, ruining her life and career after she becomes the target of a witch hunt.

Amber's best chance to break the cycle of horror comes when a true-crime investigator tracks her down to interview her for his popular podcast. But will this final act of storytelling redeem her—or will it bring the story full circle, ready to be told once again? And again. And again . . .
About the Author
---
Clay McLeod Chapman is the creator of the storytelling session "The Pumpkin Pie Show" and the author of rest area, nothing untoward, and the Tribe trilogy. He is co-author of the middle grade novel Wendell and Wild, with Nightmare Before Christmas director Henry Selick. In the world of comics, Chapman's work includes Lazaretto, Iron Fist: Phantom Limb, and Edge of Spiderverse, among others. He also writes for the screen, including The Boy (SXSW 2015), Henley (Sundance 2012), and Late Bloomer (Sundance 2005). You can find him at claymcleodchapman.com.
Praise For…
---
A 2019 Goodreads Choice Awards Semifinalist

"An ambitious mosaic novel exploring the power of urban myth and superstition."—The Guardian

"Something like Stephen King's imperfect masterpiece The Shining..."—Kirkus Reviews

"This disorienting and immersive story anchors itself in history but stretches its terrifying tentacles into the present, producing intense chills."—Library Journal

"Chapman has expertly crafted an ouroboros of a horror story. The Remaking is a fast-paced and haunting examination of how misogyny poisons our culture, generation after generation. It's absolutely chilling. You won't be able to put it down or stop thinking about it after the lights go out."—Mallory O'Meara, author of The Lady from the Black Lagoon

"Jumps out the gate and takes the reader on [a] wild and unnerving ride."—Horror DNA, 4 out of 5 star review

"A streamlined page turner of clearly cut supernatural encounters that moonlights as a frighteningly lucid story of injustice. Be it a specter or a painful recollection, Chapman teaches an absolutely chilling lesson on just how long the past will wait to bite you."—Fangoria

"A ripping good yarn. The Remaking first takes you into its confidence and then makes you wonder if you are also cursed with and by this story. Because, incidentally, you are."—Richmond Magazine

"Chapman tells a well-paced, spare story with original twists and some definite shocks."—Star News

"If there's any justice, The Remaking will introduce Chapman to a wider audience of readers anxious for the kind of horror tale that claims a little piece of your brain as its own."—BookTrib

"Chapman has crafted a fascinating horror novel that is both excellent within itself and a sharp commentary on an element of the genre."—SFFWorld

"As both a novel of psychological terror and a traditional ghost story, this short, chilling read is recommended for all collections."—Booklist

"An obvious valentine to the horror genre."—The Big Thrill