Queen of Bones (A Havana Mystery #2) (Paperback)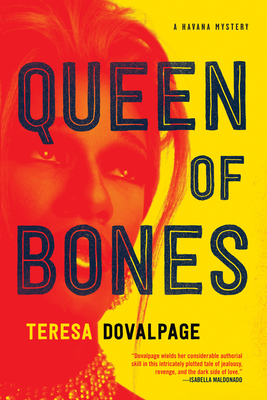 Other Books in Series
This is book number 2 in the A Havana Mystery series.
Description
---
Set between Cubas twenty years apart, Havana native Teresa Dovalpage's new murder mystery explores lingering grudges between old friends and lovers separated by Castro's final sanctioned raft exodus.
 
Juan, a Cuban construction worker who has settled in Albuquerque, returns to Havana for the first time since fleeing Cuba by raft twenty years ago. He is traveling with his American wife, Sharon, and hopes to reconnect with Victor, his best friend from college—and, unbeknownst to Sharon, he also hopes to discover what has become of two ex-girlfriends, Elsa and Rosita.
 
Juan is surprised to learn that Victor has become Victoria and runs a popular drag show at the local hot spot Café Arabia. Elsa has married a wealthy foreigner, and Rosita, still single, works at the Havana cemetery. When one of these women turns up dead, it will cost Padrino, a Santería priest and former detective on the Havana police force, more than he expects to untangle the group's lies and hunt down the killer.
About the Author
---
Teresa Dovalpage was born in Havana, Cuba. She earned her BA in English literature and an MA in Spanish literature at the University of Havana, and her PhD in Latin American literature at the University of New Mexico. She is the author of twelve other works of fiction and three plays, and is the winner of the Rincón de la Victoria Award and a finalist for the Herralde Award. She lives in New Mexico.
Praise For…
---
Praise for Queen of Bones

"A surprising journey . . . The intricate plot and the descriptions of today's Cuban culture and society make this novel an entertaining and illuminating read."
—NBC News

"Dovalpage wields her considerable authorial skill in this intricately plotted tale of jealousy, revenge, and the dark side of love."
—Isabella Maldonado, award–winning author of the Veranda Cruz mysteries

"Queen of Bones is a fast-paced, richly layered tour de force. The twists, turns, and santería rituals that abound in this complex noir will please crime readers and armchair travelers alike. Bravo, Teresa Dovalpage! Encore!"
—Lucha Corpi, author of the Gloria Damasco mysteries

"A lesser-known Cuba, with the kind of details that make it a home rather than a holiday, so an ocean breeze can carry a tinge of exhaust fumes. And it's a suspense-filled Cuba, in which a door closing can sound like a gun shot . . . If you're keen to explore Havana, heap a spoonful of Teresa Dovalpage's storytelling onto your plate, and dig in!"
—Chicago Review of Books

"A vivid portrait of Cuba's capital."
—Mystery Scene Magazine

"Cuban-born New Mexico resident Dovalpage adeptly draws on her heritage, intertwining her native country's tumultuous history with the contemporary experiences of the Cuban diaspora. While the collision of past and present produces fatal results, the ensuing labyrinthine journey provides readers with plenty of compelling diversions along the way."
—Shelf Awareness

"A story that blends intricate legwork in the name of investigating with a meditation on the meaning of family, nation, and home."
—Crime Reads

"[An] enticing second Havana mystery . . . Dovalpage skillfully evokes the lights and shadows of life in Cuba . . . Vibrant supporting characters such as Padrino, a Santería priest, and Lt. Marlene Martínez, a police detective, lend color. This moving tale of love, loss, greed, and betrayal will also appeal to non-mystery readers."
—Publishers Weekly

"Cuba shines here, as Havana native Dovalpage contrasts its politics and society over a generation, making this a good bet for armchair travelers as well as mystery buffs." 
—Booklist

"A truly atmospheric mystery that delves deep into the theme of homecoming and all the secrets we think we leave behind. The novel's greatest strength lies in Dovalpage's excellent portrayal of an island nation that has retained its unique cultural identity even as it adapts to the times, and its parallel to protagonist Juan Chiong's own personal development . . . a rich exploration of Cuban life through the lens of a murder mystery."
—Criminal Element

"Deftly unfolding details within the action, she reveals Cuba and its people as rich with fascination and depth . . . Dovalpage's writing hints at the possibility that she will be to Cuba what Donna Leon has become for Venice."
—New York Journal of Books

Praise for Teresa Dovalpage

"Amusing, observant . . . [A] devastating depiction of prejudice in 1980s Cuba."
—The Miami Herald

"Dovalpage's first crime novel is a well-cooked stew of culture and cuisine . . . [A] stunningly unexpected conclusion."
—The Taos News 

"A rich and perceptive portrayal of daily life in Cuba."
—Ft. Lauderdale Sun-Sentinel

"[A] dazzling culinary mystery . . . Those expecting a traditional food cozy will be happily surprised." 
—Publishers Weekly, Starred Review