The Wellness Workbook for Bipolar Disorder: Your Guide to Getting Healthy and Improving Your Mood (Paperback)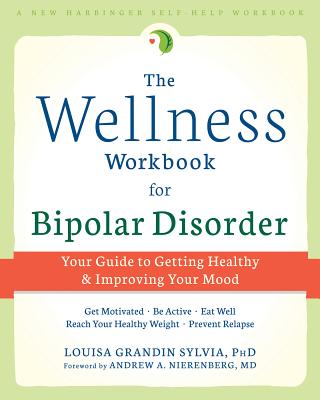 $24.95
Email or call for price.
Description
---
Studies show there is a clear link between bipolar disorder and obesity-related illnesses. In this workbook, a leading Harvard Medical School researcher and bipolar expert presents a step-by-step, evidence-based behavioral lifestyle program to help people with bipolar disorder live healthy lives, regulate moods, and lose weight.
If you have bipolar disorder, you already know about the emotional ups and downs that can accompany this disorder. But you may not know that people with bipolar disorder are far more likely to die from obesity-related illnesses as a result of poor nutrition and poor lifestyle choices.
For the first time ever, this comprehensive workbook offers the proven-effective, Harvard-researched diet and lifestyle program made popular in the best-selling book Eat, Drink, and Be Healthy, to help you manage your moods, lose weight, and thrive.
When you are experiencing a manic or depressive episode, making healthy lifestyle choices is probably the last thing on your mind. That's why The Wellness Workbook for Bipolar Disorder offers guidance to help you implement healthy changes into your daily life--one step at a time.
About the Author
---
Louisa Grandin Sylvia, PhD, is associate director of psychology at the Massachusetts General Hospital Bipolar Clinic and Research Program, director of health and wellness at the Red Sox Foundation and Massachusetts General Hospital Home Base Program, and assistant professor at Harvard Medical School. She is a skilled cognitive behavioral therapist who develops psychosocial interventions for bipolar disorder and serious mental illness. She is currently examining the efficacy of a nutrition, exercise, and wellness therapy for bipolar disorder. Foreword writer Andrew A. Nierenberg, MD, is director of the Bipolar Clinic and Research Program and associate director of the Depression Clinic and Research Program at Massachusetts General Hospital, and professor of psychiatry at Harvard Medical School. Dr. Nierenberg has published over 400 papers and has been listed among the Best Doctors in North America for the treatment of mood and anxiety disorders continuously since 1994. He received the Gerald L. Klerman Young Investigator Award from the National Depressive and Manic Depression Association, the Brain and Behavior Foundation Colvin Prize for outstanding achievement in mood disorders research, and was listed among the World's Most Influential Scientific Minds 2014 by Thomson Reuters for having the top 1% of literature citations in psychiatry/psychology worldwide.