The Gifted Teen Survival Guide: Smart, Sharp, and Ready for (Almost) Anything (Paperback)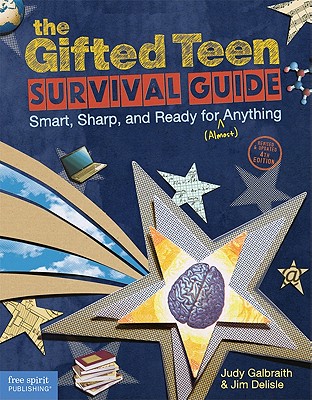 $15.99

Available from Our Distributor (Not in Store)
Description
---
Based on new surveys of nearly 1,500 gifted teens, this book is the ultimate guide to thriving in a world that doesn't always support or understand high ability. Full of surprising facts, survey results, step-by-step strategies, inspiring teen quotes, and insightful expert essays, the guide gives readers the tools they need to appreciate their giftedness as an asset and use it to make the most of who they are. The fourth edition has been revised for a new generation of high-end learners and includes information on twice-exceptionality, emotional and social intelligence, creativity, teen brain development, managing life online, testing and standards, homeschooling, International Baccalaureate programs, college alternatives, STEM careers, cyberbullying, and other hot topics.
About the Author
---
Judy Galbraith, M.A., has a master's degree in guidance and counseling of the gifted. She has worked with and taught gifted children and teens, their parents, and their teachers for almost thirty years. In 1983, she started Free Spirit Publishing, which specializes in Self-Help for Kids® and Self-Help for Teens® books and other learning resources. She is the author of numerous books, including The Gifted Kids' Survival Guide: For Ages 10 & Under. Judy lives in Minneapolis.

Jim Delisle, Ph.D., has taught gifted children and those who work on their behalf for more than thirty years, primarily as a professor of special education at Kent State University. He is a frequent presenter on gifted children's intellectual and emotional growth, and the author of more than 250 articles and books. Jim splits his time between homes in Ohio and South Carolina.
Praise For…
---
"This book provides gentle, straightforward, and realistic advice to teens who find that their giftedness is not always simple. The tone indicates quite clearly that the authors have a deep understanding of gifted minds and gifted children. Gifted young people everywhere should have access to this book, and the adults who work with them will gain a better understanding of them from it."
— School Library Journal

"This frank appraisal of the challenges and rewards of being smarter than your average bear continues to provide effective self-confidence-building advice on a broad array of issues . . . discussions of "intensity," of being "2E," and other specialized topics add a distinctive slant.
— Booklist

"This updated 4th version is better than ever, keeping the best themes from the older versions but in a readable new format, and including lots of new stuff, too.
— Hoagies' Gifted Education Page

 This new edition of the standard guide contains new information and updates for today's gifted teenagers. Previous editions were titled, The Gifted Kids' Survival Guide: A Teen Handbook. New survey information gathered from 1,400 teens forms the basis for this edition. In sidebars called, "The Survey Says," students are quoted on subjects such as IQ testing, developing a philosophy of life, and what makes a great teacher. "Gifted People Speak Out" are essays written by adults about their experiences as gifted teens. Quizzes and lists of tips (e.g., "12 Tips for Making and Keeping Friends," "10 Tips for Talking to Teachers," "10 Tips for Combating Perfectionism") provide specific suggestions for handling complex issues facing gifted students, and also provide means for directly engaging readers. The book is organized into nine chapters including information on questions such as: What is giftedness and intelligence? How do I experience the world and deal with intense feelings? How can I manage time and handle stress? How can I advocate for school changes that better suit my needs? What educational alternatives do I have (e.g., home schooling, online universities, virtual learning)? How do I choose a college and make decisions about internships and gap years? What should I do if I'm teased, bullied, or cyberbullied? When is it important to please (or not) my parents? What if I am gifted and gay, or twice exceptional (gifted and have a disability)? This guide is readable, engaging, and positive without being moralistic. It offers answers and suggestions that are not simplistic. In today's financial climate, many programs for gifted teenagers have been cut, leaving students to act as their own advocates. This book can help them negotiate their way through the snares of being a teenager with confidence and success.
— Florence Munat

"Judy and Jim have outdone themselves with the 4th edition of their popular survival guide. This book is essential reading for gifted teens, as well as for their parents and teachers. It's one of the most comprehensive overviews of the issues gifted adolescents face. Packaged in a lively and easy-to-read format, the book offers myriad practical tips for students."
— Del Siegle, Ph.D., professor, University of Connecticut, and past president of the National Association for Gifted Children (NAGC)

 "This new edition is the best yet! It has a fabulous format that is very appealing to teens. I consider it a 'must have' book."
— Margaret Gosfield, acquisitions editor, Gifted Education Communicator

"The Gifted Teen Survival Guide is chock full of useful information for gifted teens and the adults who care about them. In these pages you will find an open, honest discussion of what it means to be gifted, as well as all kinds of tips for relating to the world as you are and for taking yourself wherever you want to go! Galbraith and Delisle skip the platitudes, deconstruct common misconceptions, and get to the heart (and brain) of real issues for gifted teens."
— Corin Barsily Goodwin, executive director, Gifted Homeschoolers Forum, and author of Making the Choice: When Typical School Doesn't Work for Your Typical Child

"Teachers and parents of gifted adolescents will glean insight into social and emotional challenges faced by gifted teens as they explore this valuable resource."
— Gifted Child Today