The Wickerlight (Hardcover)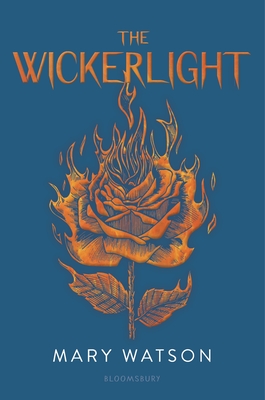 Description
---
In this lush, magical thriller for fans of the Raven Cycle and The Hazel Wood, one girl's murder investigation leads her into an ancient magical war.
It's been two months since Zara's sister Laila was found lifeless on the village green of the small Irish town Kilshamble, not a mark on her. Vicious rumors circle that she died of an overdose or committed suicide--but an autopsy finds no evidence.
Zara believes somebody must know what happened, and she throws herself headfirst into an investigation. But retracing her sister's footsteps takes her to David, a member of an ancient magical faction called the judges. The judges are in the midst of an ancient feud with another faction called the augurs, and Zara quickly finds herself embroiled in a dangerous, twisted game. And if she isn't careful on the path she's treading, she could end up with the same fate as Laila.
Riveting, atmospheric, and full of dangerous magic, this lyrical novel set in the world of The Wren Hunt is perfect for readers of Maggie Stiefvater and Melissa Albert.
About the Author
---
Mary Watson grew up in Cape Town, South Africa, where she worked as an art museum guide, library assistant, actress in children's musicals, front-of-house duty manager, and university lecturer. After publishing a short story collection and novel for adults, she fell in love with the brave girls in YA books, which inspired her to write her debut novel for teens, The Wren Hunt. She now lives on the west coast of Ireland with her husband and three young children.
www.marywatsonbooks.com
@stonemadonna
Praise For…
---
"In her atmospheric followup to The Wren Hunt, Watson blends magical lore and rituals with mystery born of family secrets. . . . Immersive." —Booklist
"Reminiscent of Maggie Stiefvater's "Raven Cycle" . . . Watson brings a deep and visceral voice to old stories as well as an authentic and modern urban sensibility, making this a highly stylized read." —School Library Journal on THE WREN HUNT
"Watson's core characters . . . enchant. . . Feels at once modern and folkloric." —Publishers Weekly on THE WREN HUNT
"Lovely and haunting . . . [For] readers who loved the dark lore and lyrical language of Melissa Albert's The Hazel Wood." —Booklist on THE WREN HUNT
"Lush. . . [G]ood for fans of Maggie Stiefvater and Holly Black." —Kirkus Reviews on THE WREN HUNT
"In this moody magical thriller, a girl with a secret identity and a talent that doubles as a curse has to outwit her enemies, survive her own damaging power, and follow her heart. For fans of . . . [t]he Shannara Chronicles." —Buzzfeed on THE WREN HUNT
"Wren's a feisty but vulnerable hero . . . Readers who enjoy the mix of modernity and mythology of Stiefvater's The Raven Cycle will find that same blend here." —BCCB on THE WREN HUNT
"[A] compelling take on druid mythology combined with a dash of family mystery." —Foreword Reviews on THE WREN HUNT
"A great read for those who enjoy fantasy, romance, and a little bit of mystery." —School Library Connection on THE WREN HUNT
"The Wren Hunt rings with ancient, subtle magic, masterfully transmuted into words. A tale that gets into your bones." —Samantha Shannon, NEW YORK TIMES bestselling author of THE BONE SEASON, on THE WREN HUNT