Shipping deadlines: We are strongly encouraging customers to get your orders in by December 7th for media mail shipping and December 14th for ground shipping. This only applies to book are " On Our Shelves Now " (shipping times for all other books will depend on publishers shipping speeds). We have been warned about shipping delays all season from USPS, UPS, and FedEx so don't delay!
How to Raise an Elephant: No. 1 Ladies' Detective Agency (21) (No. 1 Ladies' Detective Agency Series #21) (Hardcover)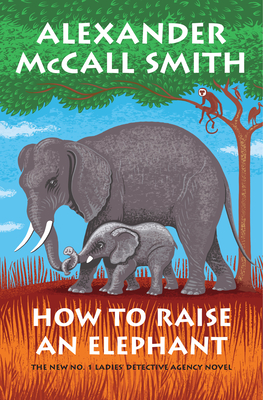 Description
---
Mma Ramotswe must balance family obligations with the growing needs of one of Charlie's pet projects in this latest installment in the cherished No. 1 Ladies' Detective Agency series.

Precious Ramotswe loves her dependable old van. Yes, sometimes it takes a bit longer to get going now, and it has developed some quirks over the years, but it has always gotten the job done. This time, though, the world--and Charlie--may be asking too much of it, for when he borrows the beloved vehicle he returns it damaged. And, to make matters worse, the interior seems to have acquired an earthy smell that even Precious can't identify.

But the olfactory issue is not the only mystery that needs solving. Mma Ramotswe is confronted by a distant relative, Blessing, who asks for help with an ailing cousin. The help requested is of a distinctly pecuniary nature, which makes both Mr. J.L.B. Matekoni and Mma Makutsi suspicious. And there is no peace at home, either, as the new neighbors are airing their marital grievances rather loudly. Still, Mma Ramotswe is confident that there are solutions to all of these difficulties, there to be discovered as long as she is led by kindness, grace, and logic, and can rely on the counsel of her friends and loved ones.
About the Author
---
ALEXANDER McCALL SMITH is the author of the No. 1 Ladies' Detective Agency novels and of a number of other series and stand-alone books. His works have been translated into more than forty languages and have been best sellers throughout the world. He lives in Scotland.