Shipping deadlines: We are strongly encouraging customers to get your orders in by December 7th for media mail shipping and December 14th for ground shipping. This only applies to book are " On Our Shelves Now " (shipping times for all other books will depend on publishers shipping speeds). We have been warned about shipping delays all season from USPS, UPS, and FedEx so don't delay!
After Dinner Amusements: Riddle Me This: 50 Brainteasers for the Whole Family (Dinner Party Gifts, Games for Adults, Games for Dinner Parties) (Cards)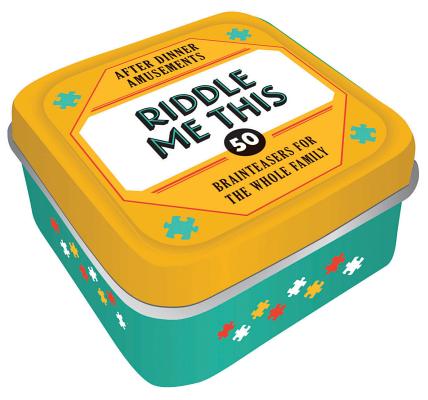 $8.95
Available from Our Distributor (Not in Store)
Description
---
What's the perfect boredom buster for any occasion, be it a cozy night at home or a long family road trip? A riddle! And this irresistible little tin contains 50 of them.

• tin box with lift-off lid: 2-1/4" x 2-1/4" x 1-1/4"
• 51 cards: 2" x 2"
• full-color throughout
• for 2 or more players
About the Author
---
Chronicle Books publishes distinctive books and gifts. From award-winning children's titles, bestselling cookbooks, and eclectic pop culture to acclaimed works of art and design, stationery, and journals, we craft publishing that's instantly recognizable for its spirit and creativity. Enjoy our publishing and become part of our community at www.chroniclebooks.com.