Shipping deadlines: We are strongly encouraging customers to get your orders in by December 7th for media mail shipping and December 14th for ground shipping. This only applies to book are " On Our Shelves Now " (shipping times for all other books will depend on publishers shipping speeds). We have been warned about shipping delays all season from USPS, UPS, and FedEx so don't delay!
National Geographic Kids Everything Weather: Facts, Photos, and Fun that Will Blow You Away (Paperback)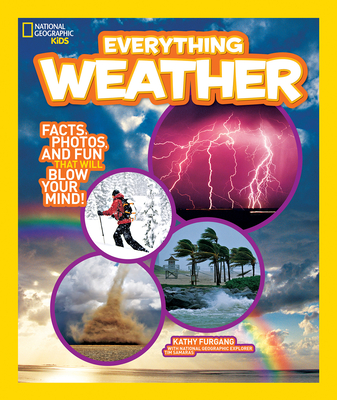 Description
---
Weather can be wild, freaky, and fascinating! Powerful twisters roar through homes; earthquakes shatter whole cities; hurricanes fly through towns. How does it all happen and how do we know what we do? All you need to know about weather and all of its wildness will be found in the pages of this colorful, energetic, and accessible book. Kids will also learn about real-life encounters with wild weather from National Geographic tornado chaser, Tim Samaras, featured in "Explorer's Corners" throughout the book. Packed with fun facts and amazing photographs, this book gives kids an in-depth look at these amazing natural phenomena. National Geographic supports K-12 educators with ELA Common Core Resources. Visit www.natgeoed.org/commoncore for more information.
About the Author
---
Kathy Furgang started her editorial career working as an intern at the Children's Television Workshop Magazine Group before moving on to Random House Children's Books and then McGraw-Hill Education. She is now a full-time freelance writer and editor who specializes in the K?8 educational markets in the areas of science, language arts, social studies, math, and ELL. For National Geographic Kids, Kathy has written Everything Weather and Everything Money.