The Last True Poets of the Sea (Hardcover)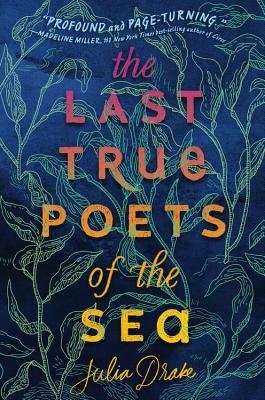 $17.99
Coming Soon - Available for Pre-Order Now
Fall 2019 Kids Indie Next List
---
"Exiled by her family to the small town of Lyric, Maine, after her brother's suicide attempt, Violet is determined to fulfill his childhood dream of finding the shipwreck the town was named after. Her search for answers begins at the town aquarium, where she finds new friends (and even serenades a lobster). Julia Drake's debut is that rare book that will take you from tears to laughter with a single page turn. You will be completely swept away by this beautiful story of love, healing, and forgiveness."
— Abby Rice, The Briar Patch, Bangor, ME
Description
---
From a stunning new voice in YA literature comes an epic, utterly unforgettable contemporary novel about a lost shipwreck, a missing piece of family history, and weathering the storms of life.
"Profound and page-turning."
--Madeline Miller, #1 New York Times best-selling author of Circe
The Larkin family isn't just lucky-they persevere. At least that's what Violet and her younger brother, Sam, were always told. When the Lyric sank off the coast of Maine, their great-great-great-grandmother didn't drown like the rest of the passengers. No, Fidelia swam to shore, fell in love, and founded Lyric, Maine, the town Violet and Sam returned to every summer.
But wrecks seem to run in the family: Tall, funny, musical Violet can't stop partying with the wrong people. And, one beautiful summer day, brilliant, sensitive Sam attempts to take his own life.
Shipped back to Lyric while Sam is in treatment, Violet is haunted by her family's missing piece-the lost shipwreck she and Sam dreamed of discovering when they were children. Desperate to make amends, Violet embarks on a wildly ambitious mission: locate the Lyric, lain hidden in a watery grave for over a century.
She finds a fellow wreck hunter in Liv Stone, an amateur local historian whose sparkling intelligence and guarded gray eyes make Violet ache in an exhilarating new way. Whether or not they find the Lyric, the journey Violet takes-and the bridges she builds along the way-may be the start of something like survival.
Epic, funny, and sweepingly romantic, The Last True Poets of the Sea is an astonishing debut about the strength it takes to swim up from a wreck.
About the Author
---
Julia Drake grew up outside Philadelphia. As a teenager, she played some of Shakespeare's best heroines in her high school theater program, and their stories would stay with her forever. She received her BA in Spanish from Williams College, and her MFA in creative writing from Columbia University, where she also taught writing to first-year students. She currently works as a book coach for aspiring writers and teaches creative writing classes for Writopia, a nonprofit that fosters love of writing in young adults. She lives in San Francisco with her partner and their rescue rabbit, Ned.
Praise For…
---
"This story of a young woman coming to terms with herself and her family is so filled with virtues and heart that it is hard to know where to begin. It is at once tender and incisive, profound and page-turning, warm and beautifully written and very funny."—
Madeline Miller, #1 New York Times best-selling author of Circe and Song of Achilles
"When you find a book that you are absolutely enamored with, it is so hard to rework the English language to say how much it meant to you. This book is all indescribable feelings; the moment the lights go down before a concert begins, coming up with exact change, seeing a friend you haven't in ages... a warm shirt straight out of the dryer. Get ready for some emotional tides because on the surface this book is about a shipwreck but its contents are oceans deep."
—
Nichole Cousins, White Birch Bookseller (Conway, NH)
"Julia Drake's debut is that rare book that will take you from tears to laughter with a single page turn. You will be completely swept away by this beautiful story of love, healing, and forgiveness."—
Abby Rice, Lead Bookseller, The Briar Patch (Bangor, ME)
"At once hilarious, insightful, and swashbuckling, Drake's debut is a lyrical adventure like no other."—
David Arnold, New York Times best-selling author of Mosquitoland
"A mystery, a redemption story, a family story, a love story, a best friend story, and a whole lot of incredible, vivid writing. I know readers are going to root for Violet and want to ride out the waves of life, love, and loss with her."—
Angie Manfredi, Youth Services Consultant, State Library of Iowa
"As warm and bright as a beach bonfire on a hazy summer night,
The Last True Poets of the Sea
will lift you up on a tide of love and lyricism, and carry you away, laughing and crying."—
Jeff Zentner, Morris Award-winning author