Shipping deadlines: We are strongly encouraging customers to get your orders in by December 7th for media mail shipping and December 14th for ground shipping. This only applies to book are " On Our Shelves Now " (shipping times for all other books will depend on publishers shipping speeds). We have been warned about shipping delays all season from USPS, UPS, and FedEx so don't delay!
Ghost Squad (Hardcover)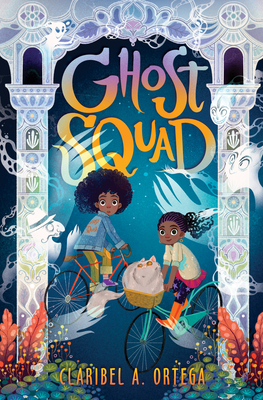 Description
---
Coco meets Stranger Things with a hint of Ghostbusters in this action-packed supernatural fantasy.
For Lucely Luna, ghosts are more than just the family business.
Shortly before Halloween, Lucely and her best friend, Syd, cast a spell that accidentally awakens malicious spirits, wreaking havoc throughout St. Augustine. Together, they must join forces with Syd's witch grandmother, Babette, and her tubby tabby, Chunk, to fight the haunting head-on and reverse the curse to save the town and Lucely's firefly spirits before it's too late.
With the family dynamics of Coco and action-packed adventure of Ghostbusters, Claribel A. Ortega delivers both a thrillingly spooky and delightfully sweet debut novel.
About the Author
---
Claribel A. Ortega is a former reporter who writes middle-grade and young adult fantasy inspired by her Dominican heritage. When she's not busy turning her obsession with eighties pop culture, magic, and video games into books, she's traveling the world for her day job in marketing and making GIFS for her small graphic design business, GIFGRRL. You can find her on Twitter @Claribel_Ortega and on her website at claribelortega.com.
Praise For…
---
"Ghost Squad is a charming adventure full of girl power and heart. Young readers will want to be best friends with Lucely, Syd, and Chunk!" -- Zoraida Córdova, author of The Way to Rio Luna and the Brooklyn Brujas series

"Ghost Squad manages to be both creepy and heartwarming, fulfilling a need for stories that are both deeply relatable and culturally specific. Highly recommended for kids looking for a spooky read, a whole lot of feelings, and a story they'll not soon forget." -- Mark Oshiro, author of Anger is a Gift and The Insiders

"Dark humor, mystical vibes, and pop-culture references abound in this action-packed ghost hunt featuring... enchanted books, cryptic catacombs, and a coven of cats who are more than they appear. Shoutouts to Harry Potter, Ghostbusters, Hocus Pocus, The Goonies, and the like crop up continually as debut author Ortega expertly weaves a feel-good, phantasmagorical adventure that readers won't want to miss." -- Booklist

"While it's undeniably a ghost story, Lucely's love for her family, both corporeal and spirit, carries the narrative, giving it warmth and depth. Readers will root for Lucely and Syd as they try to save St. Augustine and Lucely's cucuyos. A warmly spooky middle-grade debut." -- Kirkus Reviews

"A fast-paced adventure rooted in Dominican mythology and packed with action, humor, and originality. Lucely and Syd's adventure gives readers paranormal thrills akin to Ghostbusters and The Goonies, from a refreshingly different cultural perspective." -- School Library Journal

"A high energy yarn, interwoven with Dominican culture and mythology, that is pleasantly spooky with a Ghostbusters vibe that rarely falters. Readers will appreciate this lively entrée to supernatural literature." -- Bulletin of the Center for Children's Books

"Ortega takes Hispanic folk traditions and weaves them into an artful narrative set in modern times. A recommended read for those who like ghostly adventures." -- School Library Connection