Going Off Script (Hardcover)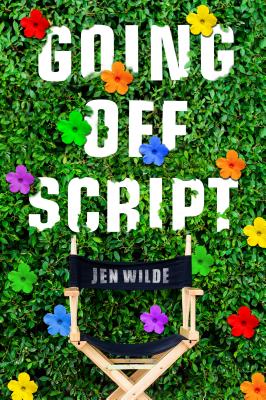 Description
---
A TV writer's room intern must join forces with her crush to keep her boss from ruining a lesbian character in this diverse contemporary YA romance from the author of Queens of Geek.
Seventeen-year-old Bex is thrilled when she gets an internship on her favorite tv show, Silver Falls. Unfortunately, the internship isn't quite what she expected... instead of sitting in a crowded writer's room volleying ideas back and forth, Production Interns are stuck picking up the coffee.
Determined to prove her worth as a writer, Bex drafts her own script and shares it with the head writer—who promptly reworks it and passes it off as his own! Bex is understandably furious, yet...maybe this is just how the industry works? But when they rewrite her proudly lesbian character as straight, that's the last straw! It's time for Bex and her crush to fight back.
Jen Wilde's newest novel is both a fun, diverse love story and a very relevant, modern take on the portrayal of LGBT characters in media.
Praise for Jen Wilde:
"The book deals head on with issues of mental health, body shaming, sexuality, and internet celebrity, handling them with a delicate and skillful touch." —Teen Vogue on Queens of Geek
"This is the geeky, queer book of our dreams." —Seventeen on Queens of Geek
About the Author
---
Jen Wilde is a writer, geek and fangirl with a penchant for coffee, books and pugs. She writes YA stories about zombies (AS THEY RISE), witches (ECHO OF THE WITCH), fangirls (QUEENS OF GEEK), and rockstars (THE BRIGHTSIDERS). Her debut series reached over three million reads online and became an Amazon bestseller.
Born and raised in Australia, she splits her time between Melbourne and New York. When she's not writing, Jen loves binge-watching her favorite shows on Netflix, eating pizza, traveling to far away places and going to conventions in Marty McFly cosplay.
Praise For…
---
"A good story about fighting for representation in the media. Give to fans of Britta Lundin's Ship It or Amy Spalding's The Summer of Jordi Perez." —School Library Journal
"The book deals head on with issues of mental health, body shaming, sexuality, and internet celebrity, handling them with a delicate and skillful touch." —Teen Vogue on Queens of Geek
"This is the geeky, queer book of our dreams." —Seventeen on Queens of Geek