Margaret Truman's Murder on the Metro: A Capital Crimes Novel (Hardcover)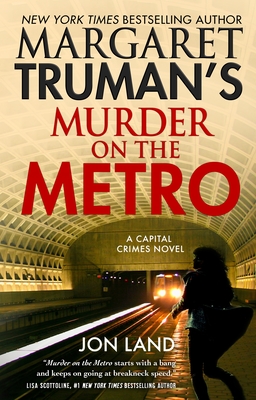 Other Books in Series
This is book number 31 in the Capital Crimes series.
Description
---
In Margaret Truman's Murder on the Metro, Jon Land's first thrilling addition to the New York Times bestselling Capital Crimes series, Robert Brixton uncovers a sinister plot threatening millions of American lives!

"A roller coaster of a novel." —David Baldacci, New York Times bestselling author

Israel: A drone-based terrorist attack kills dozens on a sun-splashed beach in Caesarea.

Washington: America awakens to the shattering news that Vice President Stephanie Davenport has died of an apparent heart attack.

That same morning, a chance encounter on the Washington Metro results in international private investigator Robert Brixton thwarting an attempted terrorist bombing. Brixton has no reason to suspect that the three incidents have anything in common, until he's contacted by Kendra Rendine, the Secret Service agent who headed up the vice president's security detail. Rendine is convinced the vice president was murdered and needs Brixton's investigative expertise to find out why.

In Israel, meanwhile, legendary anti-terrorist fighter Lia Ganz launches her own crusade against the perpetrators of that attack which nearly claimed the lives of her and granddaughter. Ganz's trail will ultimately take her to Washington where she joins forces with Brixton to uncover an impossible link between the deadly attack on Caesarea and the attempted Metro bombing, as well as the death of the vice president.

The connection lies in the highest corridors of power in Washington where a deadly plot with unimaginable consequences has been hatched. With the clock ticking toward doomsday, Brixton and Ganz race against time to save millions of American lives who will otherwise become collateral damage to a conspiracy destined to change the United States forever.


"Margaret Truman's Murder in the Metro is a spectacular international thriller of intrigue and conspiracy that I could . . . not . . . put . . . down." —Mark Greaney, New York Times bestselling author
About the Author
---
MARGARET TRUMAN won faithful readers with her works of biography and fiction, particularly her Capital Crimes mysteries. Her novels let readers into the corridors of power and privilege, and poverty and pageantry, in the nation's capital. She was the author of many nonfiction books, including The President's House, in which she shared some of the secrets and history of the White House, where she once resided. She lived in Manhattan.

Jon Land is the USA Today bestselling author of more than fifty books, over ten of which feature Texas Ranger Caitlin Strong. The critically acclaimed series has won more than a dozen awards, including the 2019 International Book Award for Best Thriller for Strong as Steel. He is also the author of Chasing the Dragon, a detailed account of the War on Drugs written with one of the most celebrated DEA agents of all time. A graduate of Brown University, Land lives in Providence, Rhode Island and received the 2019 Rhode Island Authors Legacy Award for his lifetime of literary achievements.
Praise For…
---
"Murder on the Metro starts with a bang and keeps on going at breakneck speed." —Lisa Scottoline, New York Times bestselling author

"A roller coaster of a novel. Smart and fast." —David Baldacci, New York Times bestselling author

"From sunny tourist beaches to Washington, D.C.'s secretive back rooms and board rooms, Murder on the Metro is a labyrinth of page-turning excitement." —Gayle Lynds, New York Times bestselling author

"Margaret Truman's Murder on the Metro is a spectacular international thriller of intrigue and conspiracy that I could . . . not . . . put . . . down." —Mark Greaney, New York Times bestselling author

"A fascinating, exciting thriller that is hard to put down.... The story is well put together, the characters are three dimensional, the tension is strong, and the story is believable." —New York Journal of Books

"[C]ompulsively readable and compellingly suspenseful." —Providence Journal

"If you like mysteries written in the style of Christie, Chandler, and the great legends of our genre . . . Murder on the Metro needs to be on your winter's reading list." —Strand Magazine

"Margaret Truman's Capital Crimes series . . . lights an adrenaline-filled, slow burning fuse that will ignite the world in explosive fury!" —TopShelf Magazine

For the Capital Crimes series

"Political junkies of all stripes should find something to feed their appetites." —Publishers Weekly on Margaret Truman's Experiment in Murder

"Dead-on descriptions of Washington's most crack-ridden streets and exclusionary shindigs." —USA Today on Murder at Ford's Theater