No Love Allowed (Dodge Cove Trilogy #1) (Paperback)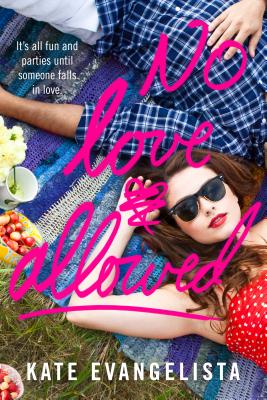 Other Books in Series
This is book number 1 in the Dodge Cove Trilogy series.
Description
---
It's all fun and parties until someone falls in love in this glitzy, glamorous modern fairy tale starring a refreshingly self-assured heroine.
Caleb desperately needs a fake girlfriend. Either he attends a series of parties for his father's law firm with a pretty girl on his arm, or he gets shipped off to Yale to start a future he's not ready for and isn't sure he wants. And sadly, the last unattached girl in his social circle has just made the grievous mistake of falling in love with him. Fortunately, Didi, recently fired waitress and aspiring painter, is open to new experiences. As the summer ticks by in a whirl of lavish parties, there's only one rule: they must not fall in love!
Chosen by readers like you for Macmillan's young adult imprint Swoon Reads, Kate Evangelista's novel No Love Allowed is filled with the perfect mixture of humor and hope.
Praise for No Love Allowed:
"Evangelista takes a familiar story of young love and makes it fresh." —VOYA
"The perfect YA contemporary romance." —Stephanie, Bookfever
"It's like a modern fairy tale." –Camelle, reader on SwoonReads.com
About the Author
---
When Kate Evangelista, author of the Dodge Cove trilogy (No Love Allowed, No Holding Back, and No Second Chances), was told she had a knack for writing stories, she did the next best thing: entered medical school. After realizing she wasn't going to be the next Doogie Howser, M.D., Kate wandered into the literature department and never looked back. Today, she is a graduate of De La Salle University—Manila with a bachelor of arts in Literature. She taught high school English for three years and was an essay consultant for two. She now writes full-time and is based in the Philippines.
Praise For…
---
"Evangelista takes a familiar story of young love and makes it fresh." —VOYA
"Given the growing awareness towards understanding the stigmas, issues and concerns surrounding mental illness, I find it refreshing that this book doesn't preach about what to do or how to be – it just tells a story of two people who fall in love and who just also happen to struggle with issues that deserve a place to be talked about." -Whatsageek.com
"Wow. I loved this. LOVED it. Kate used a deft touch, getting Didi just right. I'm looking forward more in this series because all the main players deserve their own stories. Read this book. You will NOT be disappointed." - Christine Ashworth, Swoon Reader
"I laughed and was teary eyed and had goose bumps and many more mixed emotions when I was reading and I kept reading it over and over. It's like a modern fairy tale." –Camelle, reader on SwoonReads.com
"The romance was incredible. There was also a great set of secondary characters. Nathan was my favorite. And I'm so thrilled that he's going to get his own story too. I can't wait for it. The perfect YA contemporary romance for me. It had humor, romance, awesome characters and great writing. Pretty much everything I want in a book." - Stephanie (Bookfever)