Born at Midnight (A Shadow Falls Novel #1) (Mass Market)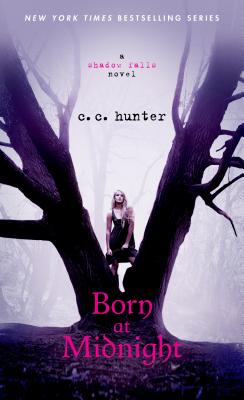 $9.99
Email or call for price.
Other Books in Series
This is book number 1 in the A Shadow Falls Novel series.
Description
---
Don't miss this spectacular new young adult fantasy series from C.C. Hunter! Born at Midnight will steal your heart and haunt your dreams. Welcome to Shadow Falls camp, nestled deep in the woods of a town called Fallen…

One night Kylie Galen finds herself at the wrong party, with the wrong people, and it changes her life forever. Her mother ships her off to Shadow Falls—a camp for troubled teens, and within hours of arriving, it becomes painfully clear that her fellow campers aren't just "troubled." Here at Shadow Falls, vampires, werewolves, shapeshifters, witches and fairies train side by side—learning to harness their powers, control their magic and live in the normal world.

Kylie's never felt normal, but surely she doesn't belong here with a bunch of paranormal freaks either. Or does she? They insist Kylie is one of them, and that she was brought here for a reason. As if life wasn't complicated enough, enter Derek and Lucas. Derek's a half-fae who's determined to be her boyfriend, and Lucas is a smokin' hot werewolf with whom Kylie shares a secret past. Both Derek and Lucas couldn't be more different, but they both have a powerful hold on her heart.

Even though Kylie feels deeply uncertain about everything, one thing is becoming painfully clear—Shadow Falls is exactly where she belongs…
About the Author
---
C.C. Hunter is the author of the young adult fantasy series Shadow Falls, including the books Born at Midnight and Awake at Dawn. She grew up in Alabama, where she caught lightning bugs, ran barefoot, and regularly rescued potential princes, in the form of Alabama bullfrogs, from her brothers. Today, she's still fascinated with lightning bugs, mostly wears shoes, but has turned her focus to rescuing mammals. She now lives in Texas with her four rescued cats, one dog, and a prince of a husband, who for the record, is so not a frog. When she's not writing, she's reading, spending time with her family, or shooting things--with a camera, not a gun. C.C. Hunter is a pseudonym. Her real name is Christie Craig and she also writes humorous romantic suspense romance novels.
Praise For…
---
"Born at Midnight is addicting. Kylie's journey of self-discovery and friendship is so full of honesty, it's impossible not to fall in love with her and Shadow Falls..and with two sexy males vying for her attention, the romance is scorching. Born at Midnight has me begging for more, and I love, love, love it!" —Verb Vixen

"There are so many books in the young adult paranormal genre these days that it's hard to choose a good one. I was so very glad to discover Born at Midnight. If you like P.C. and Kristin Cast or Alyson Noel, I am sure you will enjoy Born at Midnight!" —Night Owl Reviews

"I laughed and cried so much while reading this…I LOVED this book. I read it every chance I could get because I didn't want to put it down. The characters were well developed and I felt like I knew them from the beginning. The storyline and mystery that went along with it kept me glued to my couch not wanting to do anything else but find out what the heck was going on." —Urban Fantasy Investigations Blog

"This has everything a YA reader would want…I read it over a week ago and I am still thinking about it. I can't get it out of my head. I can't wait to read more. This series is going to be a hit!" —Awesome Sauce Book Club

"The newest in the super-popular teen paranormal genre, this book is one of the best. Kylie is funny and vulnerable, struggling to deal with her real-world life and her life in a fantastical world she's not sure she wants to be a part of. Peppered throughout with humor and teen angst, Born At Midnight is a laugh-out-loud page-turner. This one is going on the keeper shelf next to my Armstrong and Meyer collections!" —Fresh Fiction

"Seriously loved this book! This is definitely a series you will want to watch out for. C.C. Hunter has created a world of hot paranormals that I didn't want to leave." —Looksie Lovitz Book Blog

"Born at Midnight has a bit of everything…a strong unique voice from a feisty female lead, a myriad of supporting Supernatural characters, a fiery romance with two intriguing guys - mixed all together with a bit of mystery – making Born at Midnight a sure fire hit!" —A Life Bound By Books

"Very exciting, taking twists and turns I never expected. The main character grows very well throughout the story, overcoming obstacles and realizing things she never thought possible. And the author masterfully ended it just right." —Flamingnet Book Reviews

"Born at Midnight is a thrilling new young adult story with a wide array of paranormals to choose from, a love triangle that will make your heart beat a little faster and a mystery that will keep you guessing." —Fiktshun, Strictly For Fiction Blog

"I absolutely LOVED it. Wow, it blew me away." —Nina Bangs, author of Eternal Prey

"Fun and compulsively readable, with a winning heroine and an intriguing cast of secondary characters" —Jenna Black, author of Glimmerglass