How to Sit: A Memoir in Stories and Essays (Paperback)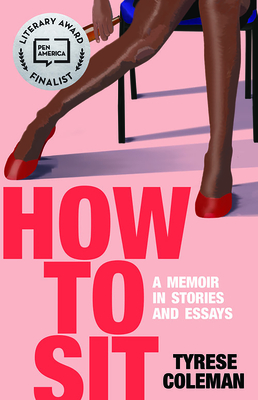 $23.00
Email or call for price.
Description
---
Literary Nonfiction. Fiction. HOW TO SIT: A MEMOIR IN STORIES AND ESSAYS, when viewed in its entirety, plays with the line between fiction and nonfiction as it explores adolescence, identity, grief, and the transition between girlhood and womanhood for a young black woman seeking to ground herself when all she wants is to pretend her world is fantasy.
About the Author
---
Tyrese L. Coleman is a writer, wife, mother, attorney, and writing instructor. She is also the reviews editor at SmokeLong Quarterly, an online journal dedicated to flash fiction. An essayist and fiction writer, her prose has appeared in several publications, including Catapult, Buzzfeed, Literary Hub, The Rumpus, and the Kenyon Review. Her essay "How to Mourn" is listed as a Notable Essay in Best American Essays 2018. She is an alumni of the Writing Program at Johns Hopkins University and a Kimbilio Fiction Fellow. She can be reached at tyresecoleman.com or on twitter @tylachelleco.
Praise For…
---
Currently a finalist for the 2018 PEN Open Book Award.

"A vibrant collection merging story and essay, fact and fiction, Coleman reveals a self more clearly seen when it's written as a character and a writer who knows how to live her own fiction."
-Jill Talbot

"A bold, unflinching look at guilt, regret, and longing, How to Sit reminds us that sometimes it's not the wounds inflicted by other people that hurt the most. The worst scars and stitches can come from what we do to ourselves."
-Tara Laskowski

"How do you pick your mom up from jail? How do you mourn the death of your grandmother, who was both a powerfully seductive and vital force in your life, but at the same time, awful and tragic? How do you wait three months for your premature twin babies to get out of the NICU without going mad from fear and guilt? With a strong voice that is at times sparse and direct, at other times poetic and knowing, Tyrese Coleman confronts these and other questions in this beautiful debut collection, How to Sit. In these stories and essays, she uncovers a paradoxical truth: that sometimes it's the more difficult things that you can face with surprising bravery and it's the things that are supposed to come "easy" that are the hardest to learn. How to Sit is, at root, a reflection on how to live. How to both accept and transcend your past. Coleman excavates her personal history, sometimes in stories handed down from past generations, sometimes in DNA results, and she discovers that it's the act of writing itself that can free her from her family, her guilt, maybe even herself. For Coleman, there is 'no way to escape except to live her own fiction.'"
—David Olimpio,