Guide to Night-Singing Insects of the Northeast [With CD (Audio)] (Paperback)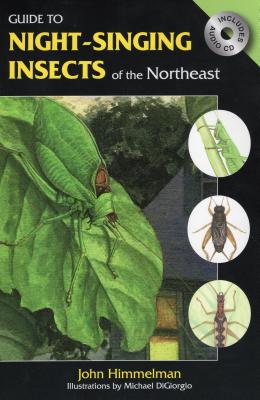 $24.95
Email or call for price.
Description
---
The mysteries behind the musical chirps, buzzes, and songs of the night are revealed in this guide to night-singing insects. Includes in-depth information on the three main families of these insects--the katydids, mole crickets, and true crickets--as well as full-color illustrations showing the unique features of each species. Readers will learn what colors and physical attributes are important, how species compare with one another, and how various sounds can help identify a particular insect. Complete with an audio guide and CD, this package is the only resource readers will need to study these small yet amazing insects of the night.Field guide to crickets, katydids, shieldbacks, coneheads, trigs, and angle-wings across the eastern United States Full-color illustrations depict each insect in extraordinary detail Enclosed audio CD features songs and calls of 68 species.
About the Author
---
Michael DiGiorgio is a member of the Artists for Conservation Foundation. His paintings and drawings have appeared in Master's Guide to Birding, Audubon Field Guide to Birds, Audubon Magazine, Bird Watcher's Digest, and more. He lives in Connecticut. John Himmelman is a prolific writer, illustrator, and naturalist. He is the author of Discovering Amphibians (978-0-8927-2703-2) and Discovering Moths (978-0-8927-2528-1). He lives in Connecticut.