The Attempted Murder of Teddy Roosevelt (Hardcover)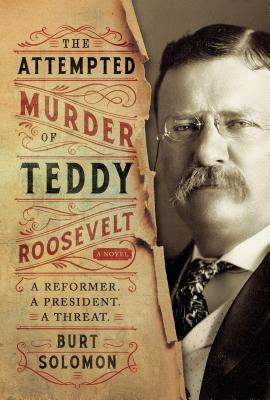 Description
---
The Attempted Murder of Teddy Roosevelt is a historical thriller from award-winning political journalist Burt Solomon, featuring Teddy Roosevelt's near death...accident or assassination attempt?
Theodore Roosevelt had been president for less than a year when on a tour in New England his horse-drawn carriage was broadsided by an electric trolley. TR was thrown clear but his Secret Service bodyguard was killed instantly. The trolley's motorman pleaded guilty to manslaughter and the matter was quietly put to rest.
But was it an accident or an assassination attempt…and would there be another "accident" soon?
The Attempted Murder of Teddy Roosevelt casts this event in a darker light. John Hay, the Secretary of State, finds himself in pursuit of a would-be assassin, investigating the motives of TR's many enemies, including political rivals and the industrial trusts. He crosses paths with luminaries of the day, such as best-pal Henry Adams, Emma Goldman, J.P. Morgan, Mark Hanna, and (as an investigatory sidekick) the infamous Nellie Bly, who will help Hay protect the man who wants to transform a nation.
About the Author
---
Burt Solomon is a contributing editor for The Atlantic and National Journal, where he has covered the White House and many other aspects of Washington life. In 1991 he won the Gerald R. Ford Prize for Distinguished Reporting on the Presidency. He is also the author of the acclaimed Where They Ain't, a history of baseball in the 1890s. Solomon, his wife, and their two children live inside the Beltway. The Murder of Willie Lincoln is his first novel.
Praise For…
---
Praise for The Murder of Willie Lincoln
"Solomon offers a deeply imagined and entirely plausible account of the Lincoln White House at its saddest…You won't guess whodunit until the final, suspenseful page."—Doris Kearns Goodwin
"Well-plotted, beautifully researched and gripping to the final page."—Daniel Stashower, author of The Hour of Peril: The Secret Plot to Murder Lincoln Before the Civil War
"Vivid, captivating, and, dare I say, seductively plausible."—John Taliaferro, author of All the Great Prizes: The Life of John Hay, from Lincoln to Roosevelt
"An original plot, plausible characterizations of historical figures, and solid prose combine to make this historical fiction debut a winner."—Publishers Weekly
"The puzzle is plausibly immersive, the solution heartrendingly surprising…Solomon portrays Hay as an effective, likable sleuth and compelling political player."—Booklist
"An engaging roman a clef…here's hoping that Mr. Solomon finds something else for John Hay to apply his fertile mind."—The Washington Times
"The pace and characterizations in this mystery are superb. The historic backdrop is expertly painted, and everyone's talk rings true: slave, free, secesh, Lincoln, even lascivious Kate Chase. But do not expect the expected ending."—James M. Cornelius, Curator, Abraham Lincoln Presidential Library & Museum, Springfield, Ill.