Shipping deadlines: We are strongly encouraging customers to get your orders in by December 7th for media mail shipping and December 14th for ground shipping. This only applies to book are " On Our Shelves Now " (shipping times for all other books will depend on publishers shipping speeds). We have been warned about shipping delays all season from USPS, UPS, and FedEx so don't delay!
A Monster Calls: Inspired by an idea from Siobhan Dowd (Paperback)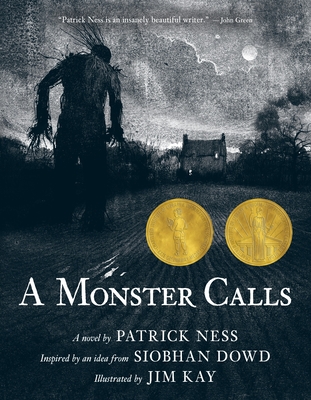 $12.00
Available from Our Distributor (Not in Store)
Description
---
Patrick Ness's Carnegie Medal–winning masterwork is poised to attract a discerning crossover audience.

The monster in Conor's backyard is not the one he's been expecting — the one from the nightmare he's had every night since his mother started her treatments. This monster is ancient. And wild. And it wants something from Conor. Something terrible and dangerous. It wants the truth. From the final idea of award-winning author Siobhan Dowd — whose premature death from cancer prevented her from writing it herself — Patrick Ness has spun a haunting and darkly funny novel of mischief, loss, and monsters both real and imagined.
About the Author
---
Praise For…
---
Profoundly moving, expertly crafted tale… a singular masterpiece, exceptionally well-served by Kay's atmospheric and ominous illustrations… tackles the toughest of subjects by refusing to flinch, meeting the ugly truth about life head-on with compassion, bravery, and insight.
—Publishers Weekly (starred review)

There's no denying it: this is one profoundly sad story. But it's also wise, darkly funny and brave, told in spare sentences, punctuated with fantastic images and stirring silences. Past his sorrow, fright and rage, Conor ultimately lands in a place — an imperfect one, of course — where healing can begin. A MONSTER CALLS is a gift from a generous story­teller and a potent piece of art.
—The New York Times

A nuanced tale that draws on elements of classic horror stories to delve into the terrifying terrain of loss. . . . Ness brilliantly captures Conor's horrifying emotional ride as his mother's inevitable death approaches. In an ideal pairing of text and illustration, the novel is liberally laced with Kay's evocatively textured pen-and-ink artwork, which surrounds the text, softly caressing it in quiet moments and in others rushing toward the viewer with a nightmarish intensity.A poignant tribute to the life and talent of Siobhan Dowd and an astonishing exploration of fear.
—Kirkus Reviews (starred review)

A brilliantly executed, powerful tale.
—School Library Journal (starred review)

Ness twists out a resolution that is revelatory in its obviousness, beautiful in its execution, and fearless in its honesty. Kays artwork keeps the pace, gnawing at the edges of the pages with thundercloud shadows and keeping the monster just barely, terribly seeable.
—Booklist (starred review)

A masterpiece about life and loss that will stay with the reader long after the final page is turned.
—Library Media Connection (starred review)

The heavily textured monochromatic illustrations are silent screams, rendering Conor's inner chaos palpable with dense shading and jagged edges symbolizing the wildness within while shifting perspectives alternately create intimacy and distance, like the push and pull he feels as he tries to stay engaged in an impossibly painful situation… Emotionally wrenching, this draws truth across pain in a way that is accessible to middle-school readers.
—Bulletin of the Center for Children's Books

Heart-wrenching and thought-provoking.
—The Horn Book

Patrick Ness is an insanely beautiful writer.
—TIME Magazine

The power of this beautiful and achingly sad story for readers over the age of 12 derives not only from Mr. Ness's capacity to write heart-stopping prose but also from Jim Kay's stunning black-ink illustrations. There are images in these pages so wild and ragged that they feel dragged by their roots from the deepest realms of myth.
—Wall Street Journal

The monster is a brilliant creation — part giant, part yew tree, destructive, didactic, elemental...The book has the thrills and ambition you would expect from the author of the Chaos Walking trilogy...Ness, Dowd, Kay and Walker have rifled death's pockets and pulled out a treasure.
—The Guardian

Featured/recommended on Oprah's 2012 Kids Reading List
—Oprah.com

An honest, heart-wrenching story that moved me to tears.
—John Boyne (author of The Boy in the Striped Pyjamas)