Henry Aaron's Dream (Paperback)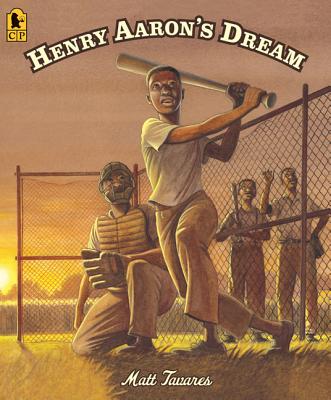 This book is currently not available
Special Order - Subject to Availability
Description
---
Matt Tavares hits one out of the park with this powerful tale of a kid from the segregated South who would become baseball's home-run king.

Before he was Hammerin' Hank, Henry Aaron was a young boy growing up in Mobile, Alabama, with what seemed like a foolhardy dream: to be a big-league baseball player. He didn't have a bat. He didn't have a ball. And there wasn't a single black ball player in the major leagues. But none of this could stop Henry Aaron. In a captivating biography of Henry Aaron's young life — from his sandlot days through his time in the Negro Leagues to the day he played his first spring training game for the Braves — Matt Tavares offers an inspiring homage to one of baseball's all-time greats.
Back matter includes an author's note, Henry Aaron's career statistics, and a bibliography.
About the Author
---
"When I set out to write about Henry Aaron, I expected to focus on his historic quest to break Major League Baseball's all-time home-run record. But in researching his life, I found that the most fascinating part of Henry Aaron's story took place before he ever set foot on a big-league baseball field — back when he was a skinny kid who held his bat the wrong way; but who never gave up his dream, even when it seemed impossible."

Matt Tavares lives in Ogunquit, Maine.
Praise For…
---
Well-written text and brilliantly composed art highlight the poignancy and triumph in Aaron's story. This rousing tribute should resonate with a wide audience.
—School Library Journal (starred review)

A multi-layered treat. On one level it is an account of one of the most amazing hitters to ever play baseball, but it is also a valiant story of hope, resilience, perseverance, and love. The author paints a rich history lesson cloaked in sports.
—Library Media Connection (starred review)

Tavares' vibrant artwork brings viewers into dingy dugouts, on cramped buses, and into the dust of the diamond as Aaron works his way into history.
—Booklist

Lyrical yet hard-hitting narrative… Close-up portraits of Aaron on and off the field dominate Tavares's watercolor, ink, and pencil art.
—Publishers Weekly (web exclusive)

The author illustrates his powerful words with extraordinary, heroic images: Muscular watercolor, ink and pencil pictures put readers right in the scene.
—Kirkus Reviews

Tavares' vibrant artwork brings viewers into dingy dugouts, on cramped busses, and into the dust of the diamond as Aaron works his way into history. . . . The home-run record may have been stolen, but books like this ensure that Aaron's legacy remains intact.
—Booklist

Memorable images of a memorable man.
—Chicago Tribune

Zachary's Ball is a children's classic. Now Henry Aaron's Dream is a masterpiece of a children's book.
—Peter Gammons, Hall of Fame baseball reporter

A compelling biography of Aaron's early years, from sandlot days, to the Negro Leagues, to his debut with the Milwaukee Braves; a nicely done homage to an all-time great.
—Pittsburghlive.com (Tribune-Review)

Tavares' soft, warm illustrations capture the heart and silent determination of Aaron's story in a way that's accessible to readers of all ages.
—Milwaukee Journal Sentinel

Although Hank Aaron is a popular subject for young readers, this book highlights his moving story with outstanding illustrations and includes an author's note, a page of stats and a bibliography.
—Chicago Sun Times

Tavares's illustrations – in watercolour, ink and pencil – capture the warmth and support of the black community, and the determination of figures like Robinson and Aaron to transcend racial stereotypes. The result is a picture book not only well suited to history classes, but an inspiration to children of all backgrounds to do the best they can and to follow their dreams.
—Montreal Gazette.com

Tavares' color illustrations are as clear, exciting, and moving as his prose.
—San Francisco Chronicle