Still Life with Tornado (Prebound)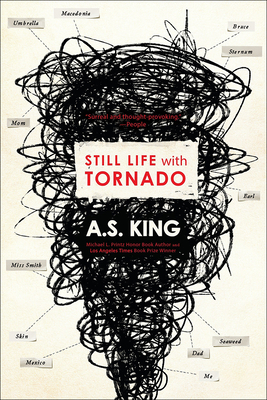 Description
---
A heartbreaking and mindbending story of a talented teenage artist's awakening to the brokenness of her family from critically acclaimed award-winner A.S. King.

Sixteen-year-old Sarah can't draw. This is a problem, because as long as she can remember, she has "done the art." She thinks she's having an existential crisis. And she might be right; she does keep running into past and future versions of herself as she wanders the urban ruins of Philadelphia. Or maybe she's finally waking up to the tornado that is her family, the tornado that six years ago sent her once-beloved older brother flying across the country for a reason she can't quite recall. After decades of staying together "for the kids" and building a family on a foundation of lies and domestic violence, Sarah's parents have reached the end. Now Sarah must come to grips with years spent sleepwalking in the ruins of their toxic marriage. As Sarah herself often observes, nothing about her pain is remotely original--and yet it still hurts.

Insightful, heartbreaking, and ultimately hopeful, this is a vivid portrait of abuse, survival, resurgence that will linger with readers long after the last page.

A New York Times 2016 Notable Children's Book
A News & Observer Best Book of 2016
A Publishers Weekly Best Book of 2016
A School Library Journal Best Book of 2016
A Booklist Best Book of 2016
Booklist Top of the List 2016
A Shelf Awareness Best Book of 2016
A BookPage Best Teen Book of 2016
A Bustle Top 30 YA Book of 2016
A Bank Street College Best Children's Book of the Year "Read this book, whatever your age. You may find it's the exact shape and size of the hole in your heart."--The New York Times

"Surreal and thought-provoking."--People Magazine ★ "A deeply moving, frank, and compassionate exploration of trauma and resilience, filled to the brim with incisive, grounded wisdom." --Booklist, starred review ★ "King writes with the confidence of a tightrope walker working without a net."--Publishers Weekly, starred review ★" King] blurs reality, truth, violence, emotion, creativity, and art in a show of respect for YA readers."--Horn Book Magazine, starred review ★ "King's brilliance, artistry, and originality as an author shine through in this thought-provoking work. ...] An unforgettable experience." SLJ, starred review.
About the Author
---
A.S. King is the award-winning author of eight acclaimed YA novels. Her novel Please Ignore Vera Dietz earned a 2011 Michael L. Printz Honor and Ask The Passengers won the 2013 Los Angeles Times Book Prize. The New York Times called her "one of the best YA writers working today." King lives with her family in Pennsylvania, where she returned after living on a farm and teaching adult literacy in Ireland for more than a decade. www.as-king.com From the Hardcover edition.