The Crossing Places (Ruth Galloway Mysteries #1) (Paperback)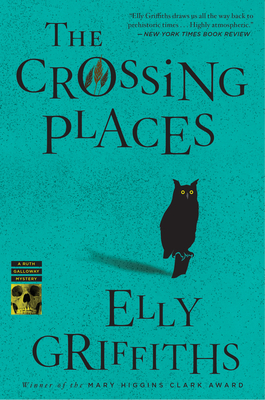 $14.95
Usually Ships in 1-5 Days
January 2010 Indie Next List
---
"The fascinating, isolated area of England called The Saltmarsh is an ideal location for middle-age forensic anthropologist Ruth Galloway to discover a child's bones, which begins this mystery. The characters in The Crossing Places are terrific, all unique and darkly sinister enough to keep readers involved in an engrossing story. An excellent first mystery!"
— Susan Wasson, Bookworks, Albuquerque, NM
Description
---
The first entry in the acclaimed Ruth Galloway series follows the "captivating"* archaeologist as she investigates a child's bones found on a nearby beach, thought to be the remains of a little girl who went missing ten years before.

Forensic archeologist Dr. Ruth Galloway is in her late thirties. She lives happily alone with her two cats in a bleak, remote area near Norfolk, land that was sacred to its Iron Age inhabitants—not quite earth, not quite sea. But her routine days of digging up bones and other ancient objects are harshly upended when a child's bones are found on a desolate beach. Detective Chief Inspector Nelson calls Galloway for help, believing they are the remains of Lucy Downey, a little girl who went missing a decade ago and whose abductor continues to taunt him with bizarre letters containing references to ritual sacrifice, Shakespeare, and the Bible. Then a second girl goes missing and Nelson receives a new letter—exactly like the ones about Lucy.

Is it the same killer? Or a copycat murderer, linked in some way to the site near Ruth's remote home?

*Louise Penny
About the Author
---
ELLY GRIFFITHS is the author of the Ruth Galloway and Magic Men mystery series. She is the recipient of the Mary Higgins Clark Award and the CWA Dagger in the Library Award, and her work has been praised as "gripping" (Louise Penny), "captivating," (Wall Street Journal) and "must-reads for fans of crime fiction" (Associated Press). She lives in Brighton, England.
Praise For…
---
PRAISE FOR ELLY GRIFFITHS AND THE RUTH GALLOWAY SERIES

Winner of the Mary Higgins Clark Award
Winner of the CWA Dagger in the Library Award

"Galloway is an everywoman, smart, successful and a little bit unsure of herself. Readers will look forward to learning more about her." —USA Today

"Elly Griffiths draws us all the way back to prehistoric times…Highly atmospheric." —The New York Times Book Review

"Forensic archeologist and academic Ruth Galloway is a captivating amateur sleuth-an inspired creation. I identified with her insecurities and struggles, and cheered her on. " —Louise Penny, author of the bestselling Armand Gamache series

"These books are must-reads." —Deborah Crombie, author of the Duncan Kincaid/Gemma James series

"[Ruth Galloway's] an uncommon, down-to-earth heroine whose acute insight, wry humor, and depth of feeling make her a thoroughly engaging companion." —Erin Hart, Agatha and Anthony Award nominated author of Haunted Ground and Lake of Sorrows

"Ruth Galloway is a remarkable, delightful character…A must-read for fans of crime and mystery fiction." —Associated Press

"Rich in atmosphere and history and blessed by [Griffith's] continuing development of brilliant, feisty, independent Ruth...A Room Full of Bones, like its predecessors, works its magic on the reader's imagination." —Richmond Times-Dispatch

"Lovers of well-written and intelligent traditional mysteries will welcome [Griffith's] fourth book…A Room Full of Bones is a clever blend of history and mystery with more than enough forensic details to attract the more attentive reader." —Denver Post
The Saltmarsh, a mystical place, provides the stunning backdrop for a new mystery series.Ruth Galloway is an overweight 40-ish forensic archaeologist living happily and quietly with her two cats in a Saltmarsh cottage when DCI Harry Nelson calls on her to establish the age of some bones found on a lonely beach. Nelson has never given up the search for Lucy Downey, taken from her parents' home 10 years ago and presumed dead. But these bones, to Ruth's delight, are those of an Iron Age child ritually buried. Despite their disparate backgrounds, the tough cop is sufficiently impressed by Ruth's calm professionalism to show her a series of taunting letters he's received over the years, presumably from the killer. She's struck by the use of biblical and literary quotations and some arcane archaeological knowledge. The Iron Age find brings interest from both the university where Ruth teaches and her former mentor Erik Anderssen. The dig they worked together at the Saltmarsh now provides a shoal of suspects for Nelson. Reputed magician Cathbad, Ruth's former lover Peter, her friend Shona and Erik were all around at the time. When one of Ruth's cats is killed and left on her doorstep and another child goes missing, she's sucked even deeper into the challenging and terrifying hunt for the truth.A winning debut. Aficionados may guess the killer early on, but the first-rate characters and chilling story are entrancing from start to finish.
— Kirkus Reviews
Griffiths, Elly. The Crossing Places. Houghton Harcourt. Jan. 2010. c.304p. ISBN 978-0-547-22989-8. $25. M
Dr. Ruth Galloway lives on the remote English beach of Saltmarsh and teaches archeology at a small local university. When a child's bones are found on a beach nearby, DCI Harry Nelson calls Galloway for help. He thinks they may be those of a missing child from a ten-year-old cold case that involved bizarre letters mentioning rituals and sacrifices. But the bones turn out to be nearly 2000 years old. Then another child vanishes, and Galloway stays on the case. More letters turn up, and these pull Galloway deeper into the hunt and into real danger. VERDICT Crime solving and anthropology have gone hand in hand through other successful mystery series such as those by Erin Hart and Aaron Elkins; Griffiths's debut stands well with them. Both Nelson and Galloway are captivating characters, and Griffiths's story is strong, well plotted, and suspenseful, leaving the reader eager for more adventures on the windswept Norfolk coast. Highly recommended.—Susan Clifford Braun, Aerospace Corp., El Segundo, CA
— Library Journal