Shipping deadlines: We are strongly encouraging customers to get your orders in by December 7th for media mail shipping and December 14th for ground shipping. This only applies to book are " On Our Shelves Now " (shipping times for all other books will depend on publishers shipping speeds). We have been warned about shipping delays all season from USPS, UPS, and FedEx so don't delay!
Crying Laughing (Hardcover)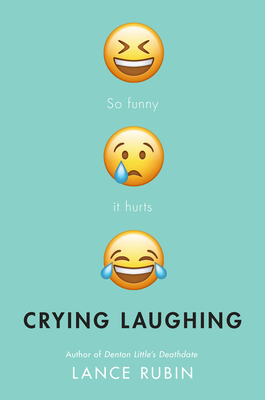 Description
---
A tragicomic story of bad dates, bad news, bad performances, and one girl's determination to find the funny in high school from the author of Denton Little's Deathdate.

Winnie Friedman has been waiting for the world to catch on to what she already knows: she's hilarious.

It might be a long wait, though. After bombing a stand-up set at her own bat mitzvah, Winnie has kept her jokes to herself. Well, to herself and her dad, a former comedian and her inspiration.

Then, on the second day of tenth grade, the funniest guy in school actually laughs at a comment she makes in the lunch line and asks her to join the improv troupe. Maybe he's even . . . flirting?

Just when Winnie's ready to say yes to comedy again, her father reveals that he's been diagnosed with ALS. That is . . . not funny. Her dad's still making jokes, though, which feels like a good thing. And Winnie's prepared to be his straight man if that's what he wants. But is it what he needs?

Caught up in a spiral of epically bad dates, bad news, and bad performances, Winnie's struggling to see the humor in it all. But finding a way to laugh is exactly what will see her through.

**A Junior Library Guild Selection**
About the Author
---
LANCE RUBIN is the author of Denton Little's Deathdate and Denton Little's Still Not Dead. He's worked as an actor, written and performed sketch comedy (like The Lance and Ray Show at the Upright Citizens Brigade Theatre), and done a lot of improv. He's also the co-writer, along with Joe Iconis and Jason SweetTooth Williams, of the musical Broadway Bounty Hunter. Lance lives in Brooklyn with his wife and two sons. You can follow him online at LanceRubin.com and on Twitter at @LanceRubinParty.
Praise For…
---
"Comedy has the ability to shine brightly in the darkness. Rubin tackles sensitive subjects with marvelous amounts of humor and heart. You will need tissues by the end of the book, but I promise it will be okay. Because, just as the title promises, you will also be laughing." —NPR

"[A] hilarious, heartrending novel." —Shelf Awareness

"Crying Laughing offers insight into why it can be good to be unfunny, and advocates for facing up to feelings, even scary ones. Winnie's rapid-fire internal voice and awkward dating experiences are a hoot, and her relationships are infused with compassion and nuance."—BookPage

"A refreshingly diverse cast of characters…. This book is for anyone who's ever attended high school, had a crush, gotten news they weren't prepared to deal with, or learned that someone close to them isn't quite who they thought they were—in short, for everyone." —Booklist

"As funny as it is poignant... Winnie's story is handled with authenticity and heart. The deft movement between laughter and tears will appeal to fans of John Green." — SLJ

"A touching look into one girl's high school experience as she seeks the funny moments even in the midst of tragedy. Charming and affecting. —Kirkus Reviews

"Charming, heartbreaking, and ultimately life-affirming, Rubin captures Winnie's verve and heart with honesty and wit." —Publishers Weekly

"Realistically portrays the balancing act between seriousness and humor for a family more comfortable with the latter." —The Horn Book 

"Crying Laughing walks the delicate line between comedy and tragedy without faltering once; a sharp-witted take on how humor can exist—and be a source of strength—even in the saddest moments."
—Ariel Kaplan, author of We Are the Perfect Girl and We Regret to Inform You
 
"A must-read for comedy fans, aspiring artists, and anybody who's feeling like life's just not fair sometimes. Cause it isn't, but that's okay—and it's even sometimes hilarious."
—Naomi Ekperigin, stand-up comedian/writer, 2 Dope Queens and Broad City
 
"Crying Laughing is funny, heartbreaking, and a love letter to comedy—and how it can save us."
—Amy Spalding, author of The Summer of Jordi Perez (and the Best Burger in Los Angeles)