Shipping deadlines: We are strongly encouraging customers to get your orders in by December 7th for media mail shipping and December 14th for ground shipping. This only applies to book are " On Our Shelves Now " (shipping times for all other books will depend on publishers shipping speeds). We have been warned about shipping delays all season from USPS, UPS, and FedEx so don't delay!
What Was the Holocaust? (What Was?) (Paperback)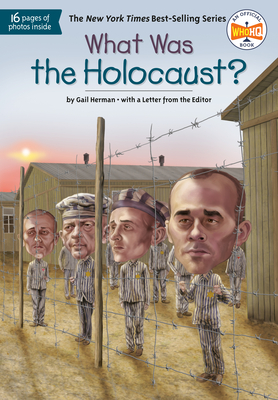 Description
---
A thoughtful and age-appropriate introduction to an unimaginable event—the Holocaust.

The Holocaust was a genocide on a scale never before seen, with as many as twelve million people killed in Nazi death camps—six million of them Jews. Gail Herman traces the rise of Hitler and the Nazis, whose rabid anti-Semitism led first to humiliating anti-Jewish laws, then to ghettos all over Eastern Europe, and ultimately to the Final Solution. She presents just enough information for an elementary-school audience in a readable, well-researched book that covers one of the most horrible times in history.

This entry in the New York Times best-selling series contains eighty carefully chosen illustrations and sixteen pages of black and white photographs suitable for young readers.
About the Author
---
Gail Herman has written several young biographies for children, including Who Was Jackie Robinson?