I've Got This Round: More Tales of Debauchery (Paperback)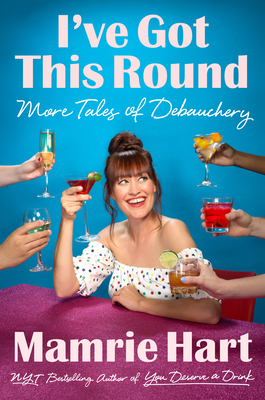 Description
---
Hilarious, candid, and full of shenanigans: actress and comedian Mamrie Hart—the New York Times bestselling author of You Deserve a Drink—is back with more adventures.
 
When Mamrie simultaneously enters her thirties and finds herself single for the first time since college, the world is suddenly full of possibilities. Emboldened by the cool confidence that comes with the end of one's twenties, plus the newfound independence of an attachment-free lifestyle, Mamrie commits herself to living life with even more spirit, adventure, and heart than before. Mamrie dives into new experiences at full tilt and seeks out once-in-a-lifetime opportunities (like meeting the Dixie Chicks), bucket-list goals (like visiting the Moulin Rouge), and madcap adventures (like going anchors-away on a Backstreet Boys cruise)—all while diving back into the dating world for the first time in a decade.
 
In I've Got This Round, readers will find the same shameless honesty and I'll-try-anything-once spirit they loved in Hart's New York Times bestseller You Deserve a Drink. Mamrie doubles down on her strong female friendships, her willingness to engage in shenanigans, and her inimitable candor, taking the reader along for a wild and unforgettable journey through adulting.
About the Author
---
Mamrie Hart is an actress, comedian, and New York Times bestselling author who established a standout presence in the pop-culture zeitgeist with her hit YouTube channel, You Deserve a Drink. Reaching more than three million followers across her social media channels, and with more than eighty-four million views on YouTube, Mamrie's influence as a creator earned her a coveted position on Variety's annual list of Hollywood's New Leaders 2016 and a spot on The Hollywood Reporter's 2017 Digital Disrupters list. In 2016, Mamrie wrote, executive-produced, and starred-in Lionsgate's feature-length comedy Dirty 30. Her other writing and acting credits include Camp Takota, a feature that outperformed Oscar-nominated films on iTunes' top downloaded movies chart during the week leading up to the Academy Awards. Mamrie is from middle-of-nowhere North Carolina. She now lives in Los Angeles with her tiny hairless dog, Beanz.
Praise For…
---
Praise for You Deserve a Drink

"My mom and I had Mamrie on In Bed with Joan and we absolutely fell in love with her! She carries her wit in the palm of her hand, usually along with a delicious cocktail. In this book, Mamrie breaks into hilarious as easily as she drops into poignant. A girl who holds the torch for all the funny and smart ladies out there!"—Melissa Rivers

"I loved this book. Mamrie Hart is hilariously brilliant, and really puts things in perspective with You Deserve a Drink. Specifically that I do deserve a drink. And the only person I feel like having one with right now is her."—Judy Greer, actress and author of I Don't Know What You Know Me From: Confessions of a Co-Star

"You know that voice you have inside that tells you not to do certain things because they are reckless, embarrassing, or socially unacceptable? Mamrie Hart does not have that voice. She does it all and tells it all in You Deserve a Drink."—Rachel Dratch, SNL alum and author of Girl Walks into a Bar . . . 

"This book is way better than my book."—Hannah Hart, New York Times bestselling author of My Drunk Kitchen

"You Deserve a Drink is like a night out with Mamrie Hart: charmingly weird and hilariously memorable. All that's missing is the hangover."—Tyler Oakley, Youtube star 

"Lowbrow/brilliant."—New York magazine's "Approval Matrix"

"An entirely hilarious read that will delight her current fans . . . and entice new readers who have enjoyed recent books by other humor heavy-hitters (Tina Fey, Amy Poehler, Mindy Kaling)."—SheKnows.com

"Sassy, foul-mouthed, funny, and fearless . . . I like this book so much I can't decide whom to loan it to first."—News & Observer (Raleigh, NC)