Prussian Blue (A Bernie Gunther Novel #12) (Paperback)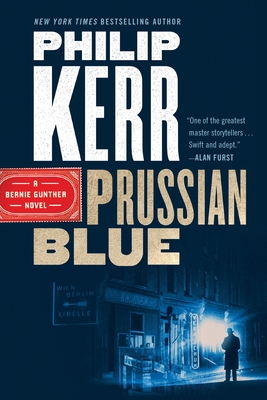 Description
---
When his cover is blown, former Berlin bull and unwilling SS officer Bernie Gunther must re-enter a cat-and-mouse game that continues to shadow his life a decade after Germany's defeat in World War 2...

The French Riviera, 1956: Bernie's old and dangerous adversary Erich Mielke, deputy head of the East German Stasi, has turned up in Nice--and he's not on holiday. Mielke is calling in a debt and wants Bernie to travel to London to poison a female agent they've both had dealings with. But Bernie isn't keen on assassinating anyone. In an attempt to dodge his Stasi handler--former Kripo comrade Friedrich Korsch--Bernie bolts for the German border. Traveling by night and hiding by day, he has plenty of time to recall the last case he and Korsch worked together...

Obersalzberg, Germany, 1939: A low-level bureaucrat has been found dead at Hitler's mountaintop retreat in Bavaria. Bernie and Korsch have one week to find the killer before the leader of the Third Reich arrives to celebrate his fiftieth birthday. Bernie knows it would mean disaster if Hitler discovers a shocking murder has been committed on the terrace of his own home. But Obersalzberg is also home to an elite Nazi community, meaning an even bigger disaster for Bernie if his investigation takes aim at one of the party's higher-ups...

1939 and 1956: two different eras about to converge in an explosion Bernie Gunther will never forget.
About the Author
---
Philip Kerr was the New York Times bestselling author of the acclaimed Bernie Gunther novels, three of which—Field Gray, The Lady from Zagreb, and Prussian Blue—were finalists for the Edgar Award for Best Novel. Kerr also won several Shamus Awards and the British Crime Writers' Association Ellis Peters Award for Historical Crime Fiction. Just before his death in 2018, he was made a Fellow of the Royal Society of Literature. As P.B. Kerr, he was the author of the much-loved young adult fantasy series Children of the Lamp.
Praise For…
---
Praise for Prussian Blue

"[B]risk and agile...Gunther is one of crime fiction's most gratifyingly melancholy creations, and in Prussian Blue we watch him match wits with the officialdom of two Germanys, pre- and postwar."—The Washington Post

"Bernie Gunther—sly, subversive, sardonic, and occasionally hilarious—is one of the greatest anti-heroes ever written, and as always he lights up this tough and unflinching novel. We're in good hands here."—Lee Child
 
"Once again Kerr leads us through the facts of history and the vagaries of human nature. His Bernie Gunther thinks he's seen it all. But he hasn't, and luckily, neither have we."—Tom Hanks

"In Prussian Blue, Philip Kerr once more shows himself one of the greatest master story-tellers in English. The narrative is swift and adept, and so well-grounded in the history and custom of the period that the reader is totally immersed."—Alan Furst

"Kerr once again brilliantly uses a whodunit to bring to horrifying life the Nazi regime's corruption and brutality."—Publishers Weekly (starred review)
 
"In this skillfully plotted thriller, Kerr punctures the present with the painful past. Fans of the series won't be disappointed."—Library Journal
 
More Praise for Philip Kerr and the Bernie Gunther Novels

"A brilliantly innovative thriller writer."—Salman Rushdie
 
"Philip Kerr is the only bona fide heir to Raymond Chandler."—Salon.com
 
"In terms of narrative, plot, pace and characterization, Kerr's in a league with John le Carré."—The Washington Post
 
"Every time we're afraid we've seen the last of Bernie Gunther, Philip Kerr comes through with another unnerving adventure for his morally conflicted hero."—Marilyn Stasio, The New York Times Book Review
 
"Just as youth is wasted on the young, history is wasted on historians. It ought to be the exclusive property of novelists—but only if they are as clever and knowledgeable as Philip Kerr."—Chicago Tribune
 
"Kerr quantum leaps the limitations of genre fiction. Most thrillers insult your intelligence; his assault your ignorance."—Esquire

"A richly satisfying mystery, one that evokes the noir sensibilities of Raymond Chandler and Ross Macdonald while breaking important new ground of its own."—Los Angeles Times
 
"Part of the allure of these novels is that Bernie is such an interesting creation, a Chandleresque knight errant caught in insane historical surroundings. Bernie walks down streets so mean that nobody can stay alive and remain truly clean."—John Powers, Fresh Air (NPR)