Shipping deadlines: We are strongly encouraging customers to get your orders in by December 7th for media mail shipping and December 14th for ground shipping. This only applies to book are " On Our Shelves Now " (shipping times for all other books will depend on publishers shipping speeds). We have been warned about shipping delays all season from USPS, UPS, and FedEx so don't delay!
Can We All Be Feminists?: New Writing from Brit Bennett, Nicole Dennis-Benn, and 15 Others on Intersectionality, Identity, and the Way Forward for Feminism (Paperback)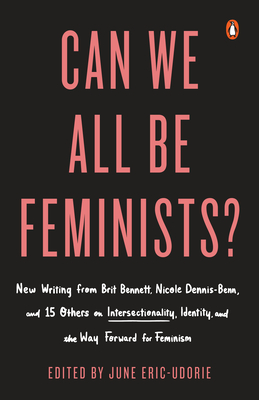 Description
---
"As timely as it is well-written, this clear-eyed collection is just what I need right now."  —Jacqueline Woodson, author of Brown Girl Dreaming

"The intersectional feminist anthology we all need to read" (Bustle), edited by a feminist activist and writer who "calls to mind a young Audre Lorde" (Kirkus)

Why do some women struggle to identify as feminists, despite their commitment to gender equality? How do other aspects of our identities – such as race, religion, sexuality, gender identity, and more – impact how we relate to feminism? Why is intersectionality so important?

In challenging, incisive, and fearless essays – all of which appear here for the first time – seventeen writers from diverse backgrounds wrestle with these questions, and more. A groundbreaking book that elevates underrepresented voices, Can We All Be Feminists? offers the tools and perspective we need to create a 21st century feminism that is truly for all.

Including essays by: Soofiya Andry, Gabrielle Bellot, Caitlin Cruz, Nicole Dennis-Benn, Brit Bennett, Evette Dionne, Aisha Gani, Afua Hirsch, Juliet Jacques, Wei Ming Kam, Mariya Karimjee, Eishar Kaur, Emer O'Toole, Frances Ryan, Zoé Samudzi, Charlotte Shane, and Selina Thompson
About the Author
---
June Eric-Udorie is a twenty-year-old British writer and feminist activist. Named Elle UK's "Female Activist of the Year" for 2017, she has been included on lists of influential and inspiring women by the BBC, the Guardian, and more. A co-founder of "Youth for Change", an initiative that works to combat female genital mutilation and forced marriage around the world, her advocacy has taken her to classrooms, the Southbank Centre's Women of the World Festival, the United Nations, and more. In 2015, she spearheaded a successful campaign to overturn the British government's decision to remove feminism from the nationally mandated A-level (high school) politics syllabus; more recently, she raised funds to take five hundred underprivileged girls and young women of color to see the film Hidden Figures. Her writing has appeared in the Guardian, the Independent, New Statesman, the Telegraph, ESPN The Magazine, and Fusion, among others. She is currently an undergraduate at Duke University, where she is a recipient of the University Scholars merit scholarship, established by Melinda French Gates, and a Human Rights Scholar at the Kenan Institute for Ethics.
Praise For…
---
One of The Guardian's "Five Books on How to Achieve Gender Equality" and "The 50 Biggest Books of Autumn 2018"

"Can We All Be Feminists? reminds us just how often feminists have failed to listen. . . . [and] how feminism has not been listened to."
—The New York Times Book Review

"A must-have for every feminist bookshelf."
—HelloGiggles

"Thoughtful and incisive analyses written in masterfully beautiful prose . . . Can We All Be Feminists? is a superb collection, and a stirring call for an intersectional feminism at a time when it is more urgently needed than ever before." 
—PopMatters

"Convincingly argues why intersectional feminism should replace the current feminism . . . This is what feminism should look like." 
—Bust

"In an eloquent and searing introduction, debut editor Eric-Udorie . . . calls to mind a young Audre Lorde, and her anthology feels like a 21st-century version of This Bridge Called My Back."
—Kirkus

"Engrossing . . . not just a key read but a mandatory one."
—Stylist

"June Eric-Udorie is a powerhouse . . . who has assembled a stellar lineup of writers, putting a bold challenge to the idea of a unified feminism."
—Book Riot

Praise for June Eric-Udorie

"The intersectional feminist anthology we all need to read. . . . When June Eric-Udorie speaks up — it's time to listen." 
—Bustle

"If you aren't already familiar with the writing of June Eric-Udorie, prepare to be blown away."  
—The Independent

"June is a passionate feminist activist [and] a powerful new voice in the blogosphere." 
—The Guardian

"An incredible young female activist." 
—Elle (U.K.), "Meet ELLE's Female Activist of the Year: June Eric-Udorie"