Shipping deadlines: We are strongly encouraging customers to get your orders in by December 7th for media mail shipping and December 14th for ground shipping. This only applies to book are " On Our Shelves Now " (shipping times for all other books will depend on publishers shipping speeds). We have been warned about shipping delays all season from USPS, UPS, and FedEx so don't delay!
The Field Guide to the North American Teenager (Paperback)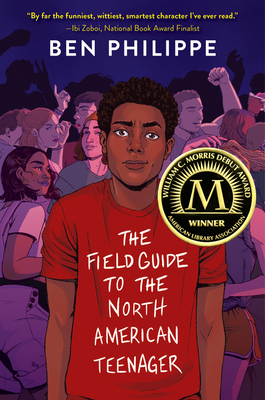 Description
---
William C. Morris YA Debut Award Winner!

A hilarious YA contemporary realistic novel about a witty Black French Canadian teen who moves to Austin, Texas, and experiences the joys, clichés, and awkward humiliations of the American high school experience—including falling in love. Perfect for fans of Nicola Yoon, When Dimple Met Rishi, and John Green. This young adult novel is an excellent choice for accelerated tween readers in grades 7 to 8, especially during homeschooling. It's a fun way to keep your child entertained and engaged while not in the classroom.

Norris Kaplan is clever, cynical, and quite possibly too smart for his own good. A Black French Canadian, he knows from watching American sitcoms that those three things don't bode well when you are moving to Austin, Texas.
Plunked into a new high school and sweating a ridiculous amount from the oppressive Texas heat, Norris finds himself cataloging everyone he meets: the Cheerleaders, the Jocks, the Loners, and even the Manic Pixie Dream Girl. Making a ton of friends has never been a priority for him, and this way he can at least amuse himself until it's time to go back to Canada, where he belongs.
Yet against all odds, those labels soon become actual people to Norris…like loner Liam, who makes it his mission to befriend Norris, or Madison the beta cheerleader, who is so nice that it has to be a trap. Not to mention Aarti the Manic Pixie Dream Girl, who might, in fact, be a real love interest in the making.
But the night of the prom, Norris screws everything up royally. As he tries to pick up the pieces, he realizes it might be time to stop hiding behind his snarky opinions and start living his life—along with the people who have found their way into his heart.
About the Author
---
Ben Philippe is a New York–based writer and screenwriter, born in Haiti and raised in Montreal, Canada. He has a Bachelor of Arts from Columbia University and an MFA in fiction and screenwriting from the Michener Center for Writers in Austin, Texas. He also teaches film studies and screenwriting at Barnard College. He is the author of the William C. Morris Award–winning novel The Field Guide to the North American Teenager. Find him online at www.benphilippe.com.
Praise For…
---
"With a perfect balance of snark, keen observation, and wry humor, Ben Philippe has given us the brilliant Norris Kaplan—by far, the funniest, wittiest, smartest character I've ever read! Norris Kaplan would be the perfect teen host for The Daily Show!"
— Ibi Zoboi, author of American Street, National Book Award finalist

"A witty debut with whip-smart dialogue that will find much love among fans of authors like John Green and Jason Reynolds."
— School Library Journal (starred review)

"In Philippe's funny debut, 16-year-old black French-Canadian Norris Kaplan must navigate life and love in Austin, Tex., after he and his mother move there... Philippe has a gift for dialogue and touches on a few instances of racism with sensitivity and humor in this crowd-pleaser."
— Publishers Weekly

"A refreshing, captivating read, one which will definitely appeal to its teen target audience but will also satisfy older readers, who will appreciate its clarity and emotional acuity."
— Toronto Star

"Ben Philippe's sparkling dialogue along with prose that occasionally borders on lyrical (although in a completely cool, hip, manly way) is sure to delight readers. Norris' evolution from cynical outsider to caring insider is a journey well-worth following—especially as it's accompanied with laugh out loud moments [and]insightful revelations."

— New York Journal of Books

"It's no longer tenable to imagine that the anxieties of a white heterosexual young man expelled from an expensive prep school capture the spirit of our era. Today's snarky young anti-hero instead looks like Norris, the black French Canadian boy in The Field Guide to the North American Teenager."
— Ron Charles, The Washington Post