The Cutting Room: A Novel (Hardcover)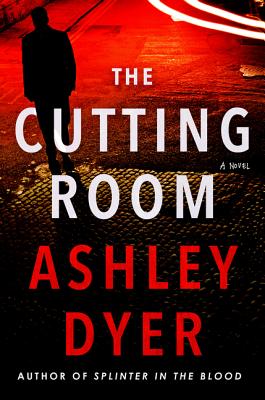 Staff Reviews
---
Checks all the best boxes for me: psychological thriller; twisty, macabre crimes; protagonists with interesting flaws or characteristics; and atmospheric. Now I must read Splinter in the Blood, the first book featuring Detectives Ruth Lake and Greg Carver. A killer considers himself first and foremost an artist who leverages social media to promote his "work" and subsequently becomes addicted to how he's trending and number of followers - and flies into a deadly rage when challenged by followers or the media. Hasn't happened yet (I don't think), but it could. Detective Greg Carver, recently returned to duty after a savage attack by a sadistic killer, struggles to deal with his PTSD and to stay focused while adapting to his ability to see emotional state via auras, which added an unexpected dimension.
— Eileen
Description
---
"Disturbing and wickedly entertaining." —People Magazine
Detectives Ruth Lake and Greg Carver, introduced in the electrifying Splinter in the Blood, must stop a serial killer whose victims are the centerpiece of his macabre works of art.

While Britain is obsessed with the newest hit true-crime television show, Fact, or Fable? detectives Ruth Lake and Greg Carver are tormented by a fiendish flesh-and-blood killer on the loose.
Lured to a "crime scene" by a mysterious digital invitation, Ruth Lake is horrified by what she finds: a bizarre and gruesome tableau surrounded by a crowd of gawkers. The deadly work is the latest "art installation" designed by a diabolical criminal dubbed the Ferryman. Not only is this criminal cold-blooded; he's a narcissistic exhibitionist desperate for an audience. He's also clever at promoting his deadly handiwork. Exploiting England's current true-crime craze, he uses social media to titillate and terrorize the public.
Ruth is joined in the investigation by her partner Greg Carver, who is slowly regaining his strength after a run-in with another sadistic criminal. But Greg can't seem to shake the bewildering effects of the head wound that nearly ended him. Are the strange auras blurring his vision an annoying side effect of his injury, or could they be something more . . . a tool to help him see a person's true nature?
In this utterly engrossing and thrilling tale of suspense, a pair of seasoned detectives face off against a wickedly smart and inventive psychopath in a tense, bloody game that leads to a shocking end.
About the Author
---
Ashley Dyer is a writing duo based in the United Kingdom.
Margaret Murphy is a Writing Fellow and Reading Round Lector for the Royal Literary Fund, a past chair of the Crime Writers Association (CWA), and founder of Murder Squad. A CWA Short Story Dagger winner, she has been shortlisted for the First Blood critics' award for crime fiction as well as the CWA Dagger in the Library. Under her own name she has published nine psychological suspense and police procedural novels.
Helen Pepper is a senior lecturer in policing at Teesside University. She has been an analyst, forensic scientist, scene of crime officer, CSI, and crime scene manager. She has coauthored, as well as contributed to, professional policing texts. Her expertise is in great demand with crime writers: she is a judge for the CWA's Gold Dagger for Non-Fiction Award, and is a forensic consultant on both the Vera and Shetland TV series.
Praise For…
---
"Disturbing and wickedly entertaining."  
— People Magazine on The Cutting Room

"The Cutting Room is a well-written, complex, and harrowing tale that will keep you on the edge of your seat . . . There's enough of Edgar Allan Poe, Peter James, and Michael Connelly in The Cutting Room to make every mystery reader's heart beat faster. Highly recommended."
— Joseph Badal, Bestselling Author of the Danforth Saga, on The Cutting Room for Suspense Magazine


"Addictive . . . The material is fresh enough to keep readers turning the pages. Fans of British police procedurals will be well satisfied."
— Publishers Weekly on The Cutting Room

"Refreshing . . . Creative . . . If you're a fan of in-depth crime procedurals, this is hands down a book for you."
— Criminal Element on The Cutting Room

"Another intriguing tale and a good follow up to the first story Splinter In The Blood. The characters of Lake and Carver are well-written and have good chemistry together. The story is intense with twists and turns that keep the reader engaged right up to the end."
— Red Carpet Crash on The Cutting Room

"The endearing characters, a truly horrifying crime, and the forensic details makes The Cutting Room a stand out in the crowded serial killer thriller genre."
— Murder and Moore on The Cutting Room

"Jump on in with Lake and Carver, and make sure you have several hours blocked out in your schedule. You're going to need them once you're absorbed inside this well-constructed thriller."
— Bookreporter.com on The Cutting Room

"The authors weave in a number of . . . internationally hot topics, such as society's addiction to true crime and social media . . . We can't wait."
— The Big Thrill on The Cutting Room

"A riveting investigation . . . Margaret Murphy and forensic scientist Helen Pepper . . . provide a grimly authentic narrative and deeply defined characters."
— Booklist on The Cutting Room

"The Ashley Dyer team delivers a 'skin crawling' realistic British crime drama in this latest work."
— Iron Mountain Daily News on The Cutting Room

"Readers who enjoy shows such as Criminal Minds will enjoy the look into this engrossing procedural, filled with suspense . . . but yet totally believeable as the detectives realize to find this demented killer, they must get inside his mind to anticipate his actions. Highly recommended."
— Auntiemwrites on The Cutting Room

"[An] enthralling debut. . . . The skillfully constructed plot complements the intriguing characters, including a deliciously creepy killer who lurks in the background. Dyer is definitely a crime writer to watch."
— Publishers Weekly (starred review) on Splinter in the Blood

"[T]his debut spins to a breathless conclusion. Solid suspense fiction by a knowledgeable duo."
— Booklist on Splinter in the Blood

"A taut and compelling thriller, as sharp as the thorns that feature in the plot."
— Ann Cleeves, Internationally Bestselling Author of the Vera Stanhope and Shetland series, on Splinter in the Blood

"With complicated leads and a ruthless killer whose method is barbaric enough to be frightening without shading into the grotesque, this is a debut worthy of sequels."
— Kirkus Reviews on Splinter in The Blood

"One of the boldest, most inventive serial-killer thrillers since The Silence of the Lambs. Packed with forensic detail, anchored by a protagonist as complicated as she is compelling, this ferocious novel is perfect for fans of Jeffery Deaver and Lisa Gardner."
— A. J. Finn, #1 New York Times bestselling author of Woman in the Window, on Splinter in the Blood

"Compelling, clever. Packed with macabre and fascinating forensic details. A stunning debut."
— Mo Hayder, bestselling author of Gone, on Splinter in the Blood

"This novel starts off with a bang of a puzzler and keeps surprising all the way through . . . Very nice start to a new series."
— Deadly Pleasures Mystery Magazine on Splinter in the Blood