We Unleash the Merciless Storm (Hardcover)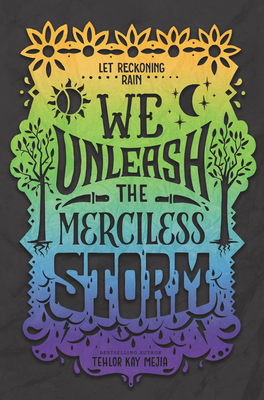 Description
---
In this nail-biting sequel to Tehlor Kay Mejia's critically acclaimed fantasy novel We Set the Dark on Fire, La Voz operative Carmen is forced to choose between the girl she loves and the success of the rebellion she's devoted her life to. Perfect for fans of The Handmaid's Tale and Anna-Marie McLemore.
Being a part of the resistance group La Voz is an act of devotion and desperation. On the other side of Medio's border wall, the oppressed class fights for freedom and liberty, sacrificing what little they have to become defenders of the cause.
Carmen Santos is one of La Voz's best soldiers. She spent years undercover, but now, with her identity exposed and the island on the brink of a civil war, Carmen returns to the only real home she's ever known: La Voz's headquarters.
There she must reckon with her beloved leader, who is under the influence of an aggressive new recruit, and with the devastating news that her true love might be the target of an assassination plot. Will Carmen break with her community and save the girl who stole her heart—or fully embrace the ruthless rebel she was always meant to be?
About the Author
---
Tehlor Kay Mejia is the author of the critically acclaimed young adult fantasy novel We Set the Dark on Fire as well as its sequel, We Unleash the Merciless Storm; Miss Meteor (co-written with National Book Award nominee Anna-Marie McLemore); and her middle grade debut, Paola Santiago and the River of Tears.
Her debut novel received six starred reviews and was chosen as an Indie Next Pick and a Junior Library Guild selection, as well as being an IndieBound bestseller in the Pacific Northwest region. It has been featured in Seventeen, Cosmopolitan, and O The Oprah Magazine and named a best book of 2019 by Kirkus and School Library Journal.
Tehlor lives in Oregon with her daughter, two very small dogs, and several rescued houseplants.
Praise For…
---
"A second—and final—volume that not only surpasses the accomplishments of its celebrated predecessor, but takes it to a higher, brighter level. Thrilling, timely, and terrific."
— Kirkus Reviews (starred review)

"Where the first volume was subtlety and shadows, this is emotion and adrenaline, and it will carry readers through to an ending that feels entirely earned."
— Booklist (starred review)

 "A fast-paced journey, complete with daring escapes, assassinations, and a few steamy encounters."
— Horn Book Magazine

"A powerful series that defies the tropes of dystopian young adult fiction."
— Tor.com

"Carmen's struggle to save Dani is fast-paced, the plot full of arresting events that mirror current political and racial divides, and readers will surely root for the couple as Carmen fights for a happy ending. Mejia writes an utterly captivating and thoroughly satisfying ending for the two young women."
— Shelf Awareness

"With a Latinx cast, a queer romance, and a timely challenge to a corrupt government, readers will be clamoring for this story about finding home, purpose, and family–and taking down a patriarchal dictatorship along the way."
— ALA

"An incredible sequel to a fantastic debut."
— The Nerd Daily

"Timely, powerful, and moving, We Unleash The Merciless Storm is a stunning conclusion to a dynamic duology."
— TheYoungFolks.com

Praise for We Set the Dark on Fire: ★"With its achingly slow-burn romance and incisive examination of power structures, this is a masterfully constructed novel, made all the more impressive as it's a debut."

 
— ALA Booklist (starred review)

★"A richly constructed world full of fantasy and diversity, with a mystery that will keep them guessing until the very end."
— School Library Journal (starred review)

★"This fierce, feminist novel throws memorable characters into a provocative set of circumstances, and the constant twists will leave readers yearning for the conclusion."
— Publishers Weekly (starred review)

★ "This well-crafted fantasy offers a mirror that reflects themes in our own difficult world, namely privilege, immigration, and individualism versus the common good. A queer subplot with sensual tenderness adds rich complexity to the story. Thrilling and timely."
— Kirkus Reviews (starred review)

"Tehlor Kay Mejia has fashioned a gripping tale of romance and rebellion. Dani captivated me and held my heart in a vice grip all the way to this book's stunning conclusion."
— Tochi Onyebuchi, author of Beasts Made of Night

"We Set the Dark on Fire simmers with political revolution and forbidden love between two powerful young women—I couldn't put it down."
— Audrey Coulthurst, author of Of Fire and Stars

"A vivid tale of political intrigue, power, and resistance that will thrill the hearts of readers."
— New York Times bestselling author Traci Chee

"A stunning debut. Tehlor Kay Mejia weaves a gorgeous narrative where etiquette can be wielded like a weapon and where wit can be just as powerful as a sword."
— Rin Chupeco, author of The Bone Witch